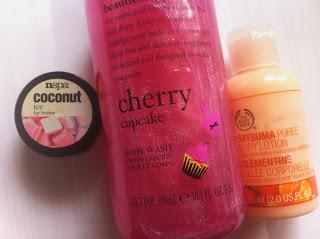 Hello my lovely readers! 
We aren't all the biggest fans of sweet smelling products, am I right? I am not a fan of all sweet smelling products but have picked out a few that I own which I think are nice fragrances and not overpowering. 
I have used the "n-spa" lip butters for a while and find them really nourishing and they smell amazing. I bought the one pictured above in a trio, along with the strawberry laces one. I love them both and at £4 for the set of 3 was a bargain! I think these sets become available in ASDA at Christmas and make perfect gifts for someone who enjoys makeup!
The Cherry Cupcake body wash by Beauticology, I received as a present from someone in a larger set. I love the smell of this product, it reminds me of the cherry drop sweets. This products smell lasts long on your skin and leaves a fresh fruity smell. This product is budget friendly also, I think the set retails for around £8 and comes in a variety of different scents. The brand Beauticology is owned by Bayliss & Harding, which is also stock skincare items.
Lastly I have the Satsuma Puree body lotion- The Body Shop. This is definitely my favorite out of these products! This product has an amazing orange scent, with a thick moisturising consistency. I am going to purchase the large bottle of this when I venture in to town next. This product is a strong smelling lotion and I wouldn't recommend it if you aren't a fan of fruity smells. Totally affordable product at £3.00 from The Body Shop online!
Thanks for reading guys!
x