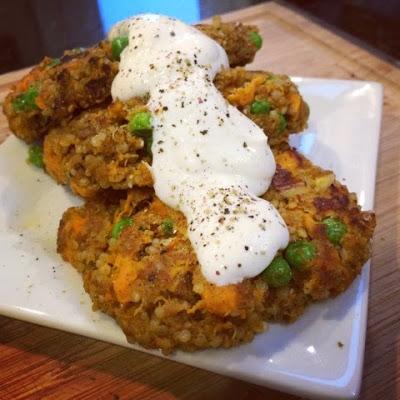 I love Indian food. Samosas are my weakness. Potatoes. Sweet Peas. All wrapped up in a flaky, perfectly fried pouch. Doesn't get much better than that people. So then I thought, why not take samosa flavors and make them into a healthy veggie burger. Samosa are traditionally made with white potato. I happened to only have sweet on hand and they are better for you so I figured why not. For extra fiber and protein I added quinoa, but you can also add chickpeas. These burgers turned out so delicious. I topped them with Greek yogurt mixed with lemon juice. You can also top them with mango chutney. Yum!That's not even the best part. Make the sweet potato and quinoa the day before and you have a dinner that comes together in less than 30 minutes.
Sweet Potato Samosa Burgers
Makes 4 Burgers
Ingredients: 
1 large sweet potato2 cloves of garlic ( chopped)1/2 cup quinoa uncooked1 tsp garam masala ( or curry powder)Salt & Pepper1 egg1/4 cup whole wheat bread crumbs
Sauce1/2 cup 0% Greek yogurtJuice of 1 lemon
Directions:
1.Poke potato with fork and wrap baked potato in tin foil and bake at 350F for 35 minutes. You can also make in microwave. 
2. Boil quinoa to packaged directions. 
3.Chop garlic and add to a large bowl.Add breadcrumbs, egg and garam masala. 
4. When quinoa is done cooking, add to bowl. Scoop out sweet potato and add to bowl. 
5. Mix well and form into 4 patties. Refrigerate on a baking sheet for 30 minutes. 
6 .Cook in a shallow pan with some olive oil ( on medium) until each side turns golden. Flip to cook for another 2-3 minutes. 
7. Mix Greek yogurt and lemon juice and top burgers.