While studying countless city road maps on our long drive across the US, one road name we have encountered everywhere is 'Martin Luther King'. The Great Man's name is on boulevards, highways and major thoroughfares in virtually every city and major town we have passed through. It's hard to think of an exception. And here we are now in his home town, Montgomery Alabama, the city where he was senior pastor of the Dexter Avenue Baptist Church (whose name has since been changed to the Dexter Avenue King Memorial Baptist Church).
So today we set out to learn more about the city of Montgomery, the town that people live in now, as well as the place where momentous events in the Civil Rights Movement took place in our recent past.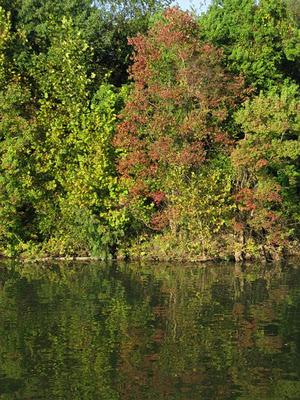 Well, for one thing Montgomery is a very green and pleasant place, so let's start there. It might be the Fall season now, but it still reached 90°F here today, but a cool change is due to finally arrive in a few days, say the weather people.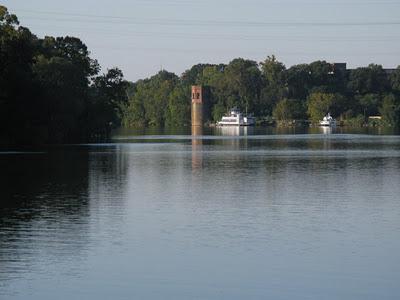 The city is set on the Alabama River, and there's a pleasant riverside walk down there where Pammy took these photos (as well as most of the others in this posting).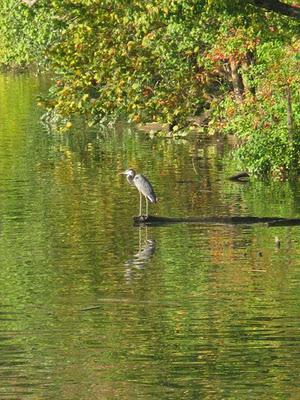 The river was alive with fish, and a local fisher person was patiently waiting to catch her dinner.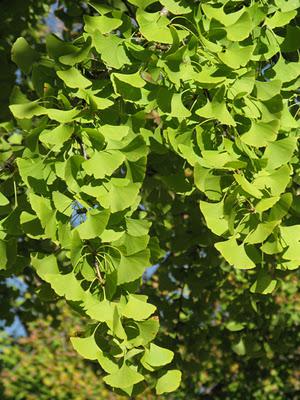 Wandering around town, the green civic pride is evident everywhere. Montgomery is the capital of Alabama and it feels like a government town, with large public buildings fronted with nicely landscaped gardens. The street trees here caught our eyes: they're maidenhair trees, Ginkgo biloba.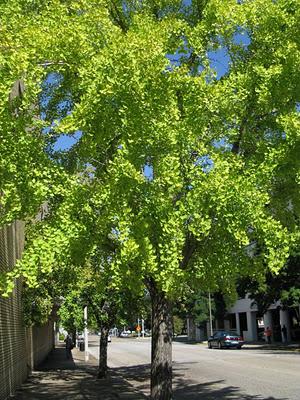 These are deciduous trees which will eventually put on a golden show, but right now they can be forgiven for thinking it's still summer.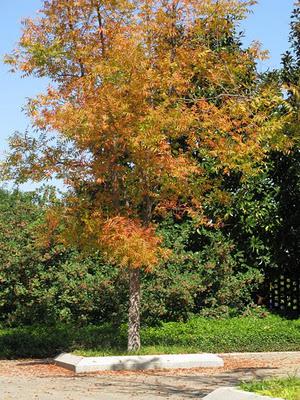 Other trees are just showing signs of Fall colour.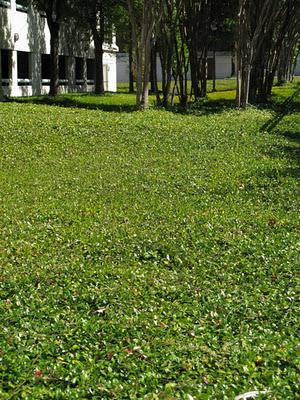 This sea of green groundcover was enormous, lush and deep. It looked superb.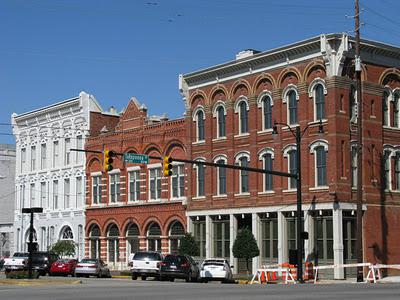 The older parts of town are well preserved, but very very quiet on this working Monday. It reminded me of the very quiet, almost deserted old parts of Natchez Mississippi.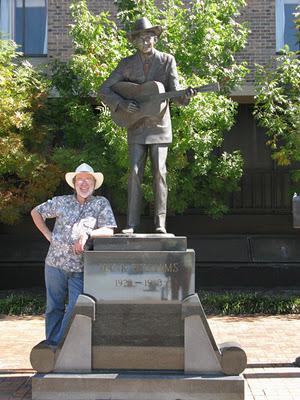 We set out to be tourists in the morning, and the first stop was the Hank Williams Museum, a remarkably comprehensive museum that has the car in which Hank died, most of his very flash stage outfits, countless photos and other memorabilia. They even had his kitchen table and chairs! Not far from the Museum is the statue of Hank, photographed here with an Australian roadie getting himself into the shot.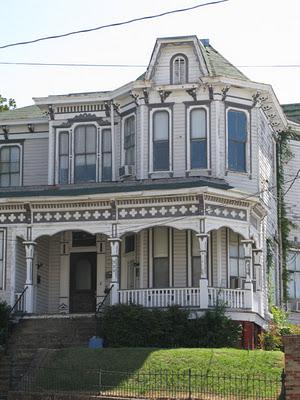 Here and there in the old part of town a few houses stand alone, each exhibiting equal quantities of shabby chic and fading grandeur. However, we were on our way up the hill first to visit the King Memorial Baptist Church, then the Civil Rights Memorial after that. Unfortunately for us, the church was undergoing major renovations and had barriers and warning tape all around it. Openings where doors and windows should be were covered with plywood, a new set of stairs was being built at the entrance, and of course the whole thing was closed to visitors.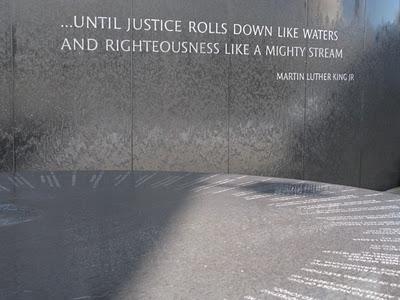 One block up the hill we found the very impressive Civil Rights Monument. Made from black granite, the wall behind the memorial contains a quote from one of Dr King's speeches.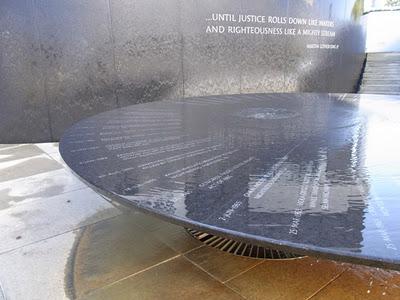 A table-like, elegantly sculpted circular black plinth stands before it, with water gently coursing out to the sides.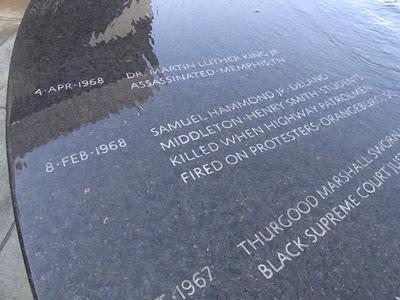 The surface of the plinth is engraved with the names of people martyred during the Civil Rights struggle of the 1950s and 60s. Behind the monument, the Civil Rights Museum is a powerfully moving place to visit. The first room displays the names, faces and stories of everyone whose name is etched on the memorial out the front. While the majority of people listed here are African Americans, I was surprised to see a number of white faces there, and most of those belonged to Christian Pastors from other parts of America who came to the south to join the struggle, and were killed. Several people listed were not active campaigners in the struggle – they were just unlucky enough to be in the wrong place at the wrong time, and were murdered out on the highways somewhere, including a Lt-Colonel in the army. And finally, it was disturbing to read how often the killers were police deputies. It must have been an anarchic time and place when the police were killing the citizens, almost with impunity.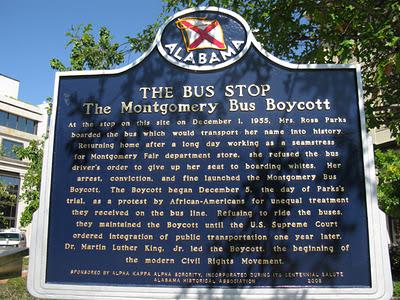 On the way back down the hill, we passed by this plaque, commemorating yet another major milestone for Montgomery in the Civil Rights Movement: the place where Rosa Parks refused to give up her seat to a white person. The plaque explains what happened.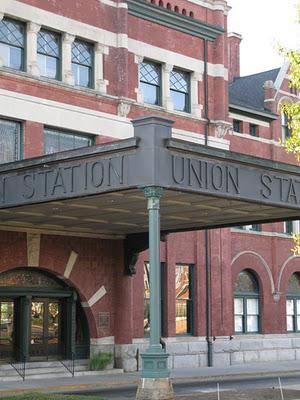 Further down the road, we stopped to admire the old Union railway station, which no longer has trains running through it and is now the home of the local tourism bureau.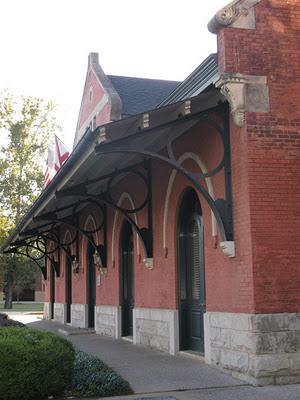 As a sign of how much things are changing in Montgomery, around the corner from this part of the railway station you can now find a Thai restaurant.
However, lest you imagine that here we have another lovely old historic town, there is another side to Montgomery which is not worth all that many photos, but is worth telling you about in the name of accuracy. Montgomery's streets are broad and very very quiet. As the centre of government here it has lots of 'headquarters' style buildings, each consisting of a monumental building with a very large garden (or lawn) around it. The style they seem to prefer here is what I call 'Greco-Russian'. It's 'Greco' because of their love of those big Greek columns out front, and it's 'Russian' in its love of fearsome KGB-style monumentalism. Maybe Pammy and I are a bit perverse in our tastes, but many of these buildings drew either gasps of astonishment or peals of laughter as we passed by. Here's an example of what caught our fancy.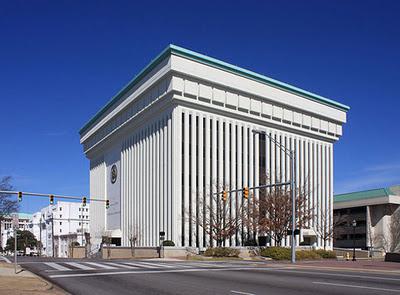 I honestly cannot remember what this building was about. Probably superannuation, or sewerage, or something similar deserving of such important treatment. What it needs is a statue of Apollo in the foyer.
Though our stay here was brief (two nights, with one whole day to wander around) we really liked Montgomery as a place, and its friendly people who are very likely to say hi to perfect strangers passing by in the street. It's a city which has made a determined effort to put its past behind it by changing utterly the way people live, while recording its history in a dignified, educational, inclusive way that makes sure no-one ever forgets.
Finally, we found a rich source of material for Tummy Time 7 here in Montgomery, and that's what we have in store for you next time. We're heading towards the coast now – Savannah in Georgia, but it may take a day or so to get there.