Remember the hit song "Sugar, Sugar" by The Archies or "Sugar Pie Honey Bunch" by The Four Tops? What about "Brown Sugar" by the Rolling Stones? Maybe you remember one of the more than a dozen songs simply entitled "Sugar"? Well the connotation of the sweet powder is moving to luxury watches and it is due to the latest designs by De Grisgono.
Swiss watchmaker De Grisogono is about to tempt buyers with a new set of sweet watches. The luxury timepiece maker recently announced its line of Sugar watches. The watches in four "flavors" seem to convey a box of confectionary treats as they spill from their box.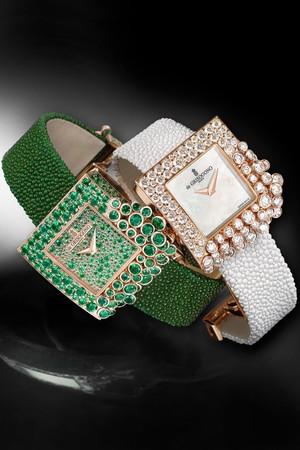 Vanilla and Lime? Diamonds and Emeralds?
In the case of De Grisogono, the four flavors these treats come in include; blue sapphires, white diamonds, orange sapphires, and emeralds. The watches even contain the gemstones on the back, an apparent secret only the wearer will know about. The white diamond flavor will cost consumers about $140,000 for a taste. Of course all of the watches feature De Grisogono's" tone-on-tone" stingray watchbands.
The watches feature gems on bottom and right bottom of the crystals that give the impression each flavor is spilling onto the wearer's wrist. It is a colorful, somewhat whimsical combination of tasty treats and premium jewelry that is sure to have women wanting just another taste.
Good news ladies. These sweet treats can keep you looking good, on time, and they contain no calories.
Raymond Z for Raymond Lee Jewelers, South Florida's premiere source for buying and selling luxury watches and designer jewelry.