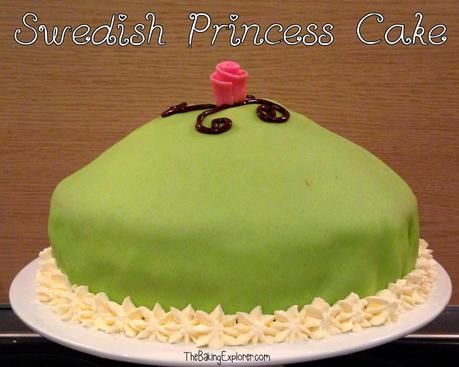 The Great British Bake Off got all European this week. Mel and Sue put on some dodgy accents and requested that the bakers make a yeast leavened cake inspired by Europe. Paul explained that baking powder wasn't invented until the 1850s, so yeast was used to raise cakes. Yeast is much harder to work with as any flavours you add to the mixture can affect the yeast from performing it's rising job. The cake has to prove like bread before being baked.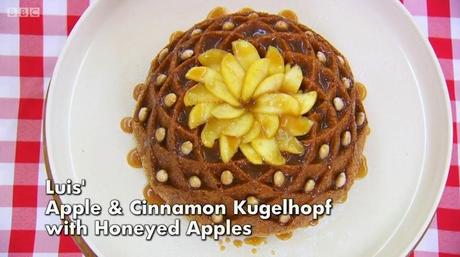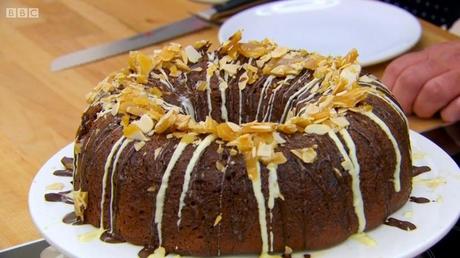 Screencapped from BBC iPlayer
There was a wide variety of cakes from the bakers. Luis made an Austrian Kugelhopf flavoured with apple and cinnamon, Richard made a German Guglhupf filled with fruit, and Chetna made an French Savarin flavoured with orange. Martha, Luis and Chetna all did very well in the judging. Nancy's cake was overproved, Richard's underproved and Paul thought Kate's fillings were too dry. All the bakers reacted well to the feedback. Nice to see everyone returning to being calm and collected!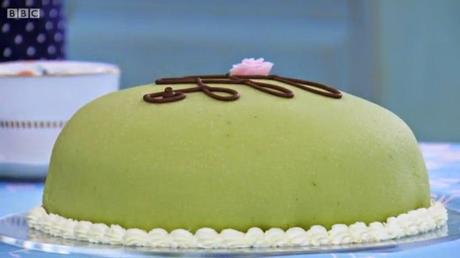 Screencapped from BBC iPlayer
Mary Berry's recipe for a Swedish Princess cake (or Prinsesstårta) was this week's technical challenge. The cake comprises layers of genoise sponge sandwiched with jam and creme patisserie, then an dome of whipped cream on top and the whole thing is covered in green marzipan with a pink marzipan rose decoration and chocolate swirls to finish. This is a pretty epic creation and is the Bake Off's most complicated technical challenge yet as it compromises 26 ingredients and 14 stages. Mary advised that the bakers read the recipe at least twice to make sure they know what they're doing!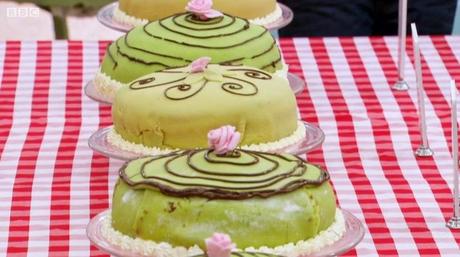 Screencapped from BBC iPlayer
This challenge really proved that the bakers have great technical knowledge. They weren't told how to make a creme patisserie, but they all knew what to do. Martha knew a lot about genoise sponges, and Nancy is a jam making pro. The recipe is certainly tough as they had to make both the jam and marzipan from scratch! Kate and Chetna both made the sponges twice as they didn't rise, which left them with little time to decorate. Nancy won the challenge, with Chetna and Luis in second and third. Kate came last, with Richard fifth and Martha fourth. I loved the clip of Kate at the end just going 'Hmmm...'!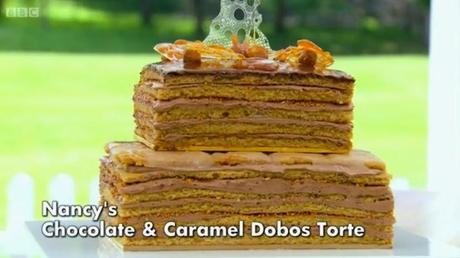 Screencapped from BBC iPlayer
For the showstopper the judges requested a contemporary version of the Hungarian dobos torte. This is a multi layered cake topped with caramel slices, and the judges wanted at least two tiers, with lots of caramel sugar work in any shape of design the bakers desired. This is a very elegant cake and is mostly found in patisseries and fancy hotels. The bakers had to make lots of very thin layers of sponge to build up the height of the cake. The idea is that the buttercream and cake layers are the same so that when it's cut you get a great effect.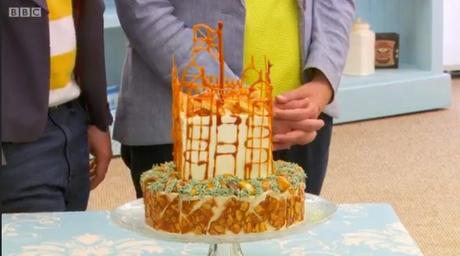 Screencapped from BBC iPlayer
Luis made a cage shape out of his caramel that was very precise and impressive, although his cake lacked in flavor. Richard spun some sugar to make a nest for a sugar bird, but his sponges drooped. Chetna had a very clever trick using grapes to make caramel bowls, which the judges loved. Nancy also did well. Paul and Mary felt that Kate did not do enough sugar work, and Martha's cake tasted good, but again the sugar work was minimal.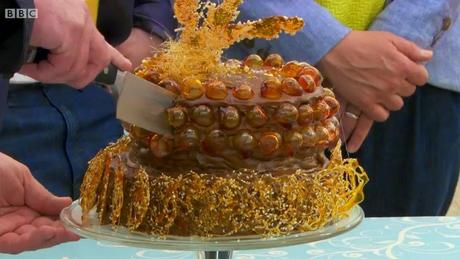 Screencapped from BBC iPlayer
So, quite obviously, no one left this week. After Diana's unexpected exit, the programme are now down one person leaving the number uneven. Luckily this week Paul and Mary had a bit of a disagreement on who should go (it was between Kate and Richard). So they took the opportunity for no one to leave this week. Richard and Kate have both received the star baker award in the past, so they will hopefully pick up their game after this week as I really like them both! Next week is all about pastry.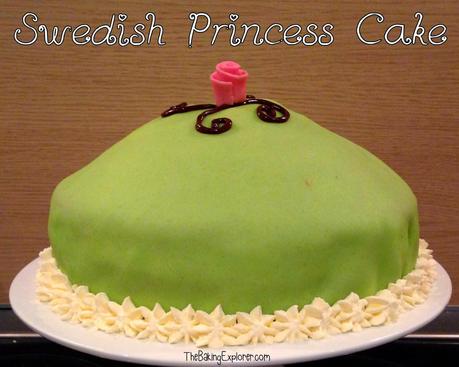 I decided to make the Swedish Princess Cake this week as it contained a couple of techniques I'm not familiar with. Creme patisserie and genoise sponge are things I've never made before. Lucky for me I had all the time in the world to make it so I did the creme patisserie the night before and left it to cool in the fridge overnight. I also used shop bought jam and marzipan (sorry Mary). If you do want to make your own jam my Raspberry Jam post will show you how. As for marzipan - go and buy some is my advice!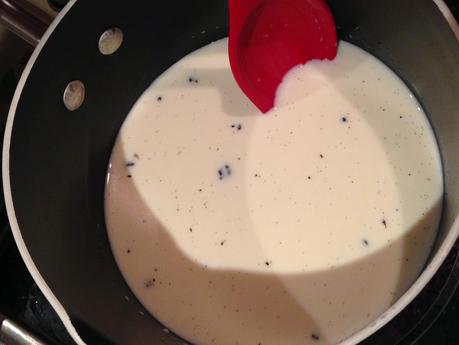 To make the creme patisserie I started by heating 500ml whole milk with the seeds from a vanilla pod until it reached boiling point. I then took it off the heat.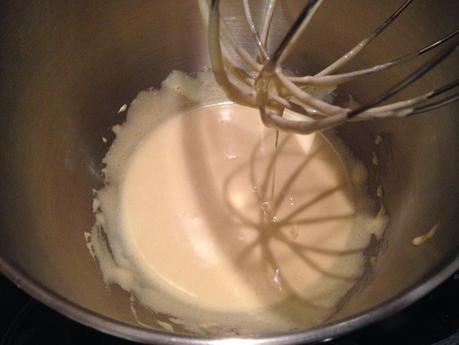 In my food mixer I whisked up 6 egg yolks with 140g caster sugar until pale and thick. I added 45g cornflour, then turned the mixer back on and poured the milk in.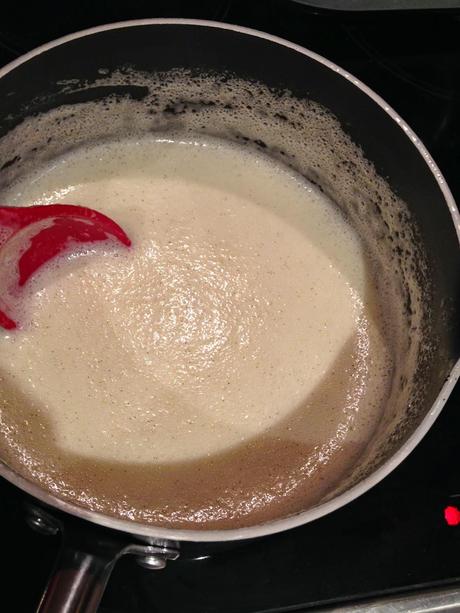 I poured the mixture back into the pan and heated it up whilst stirring. There is a moment when it suddenly thickens, I started whisking it at this point to keep it smooth and stop any lumps.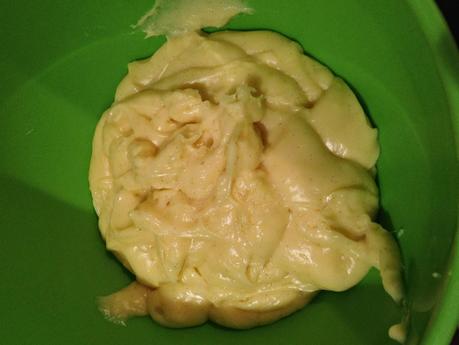 I was so chuffed with the creme patisserie! I put it in a bowl, and covered it with cling film. I made sure the cling film was touching the creme pat so that a skin doesn't form on it. I left it in the fridge overnight to cool.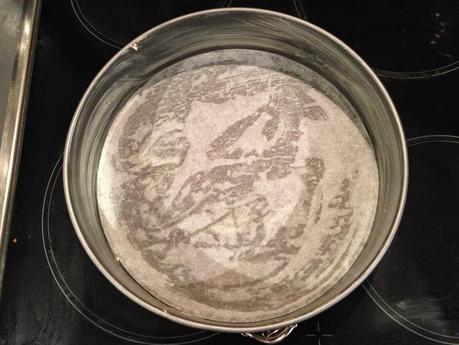 The next evening I lined and greased my 23cm spring form cake tin.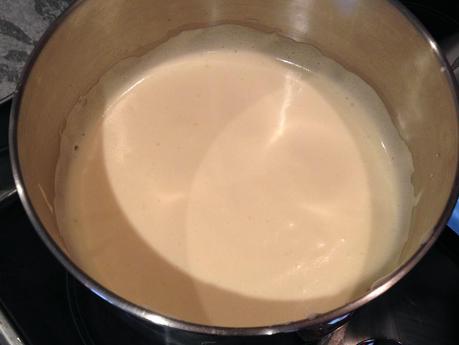 In my food mixer I whisked up 5 eggs with 150g caster sugar until pale and super thick. When you lift the whisk out the mixture that falls off should stay on the surface for 3 seconds before sinking in.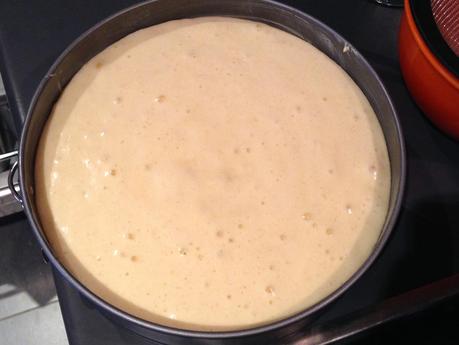 I folded 130g plain flour and 1 tsp vanilla sugar into the egg mixture very gently so as little air is lost as possible. I then put it in the tin.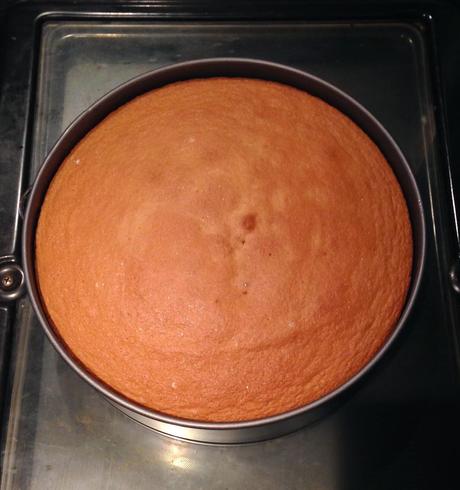 I baked the sponge on 160C/325F/Gas Mark 3 for 25 minutes.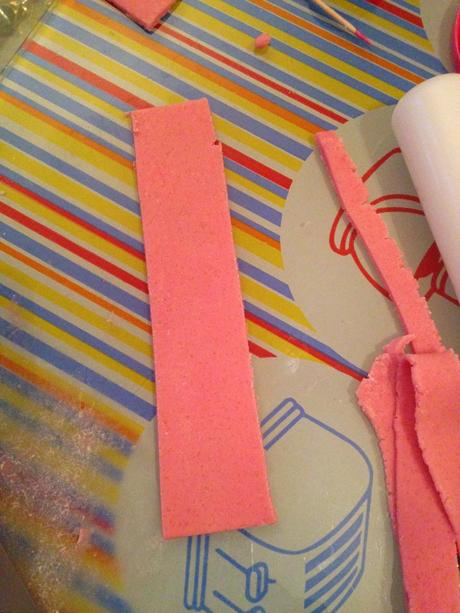 Whilst it was cooling I kneaded pink food colouring into 40g marzipan. I rolled it out and cut out a strip about 2cm wide and 10cm long.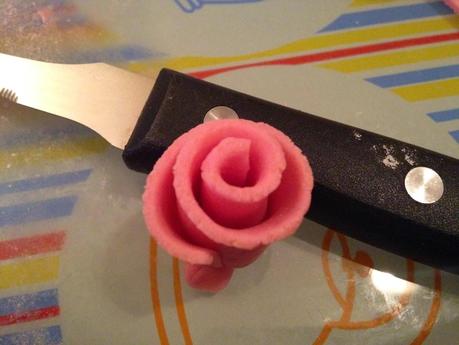 I rolled it up, nipping the bottom and spreading out the petals at the top with my fingertips.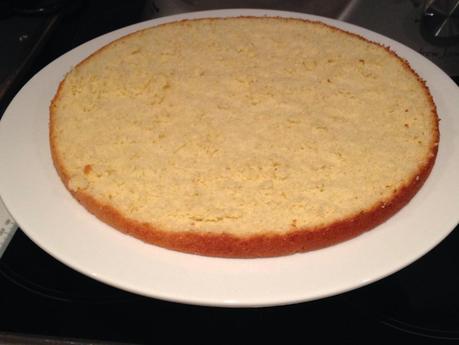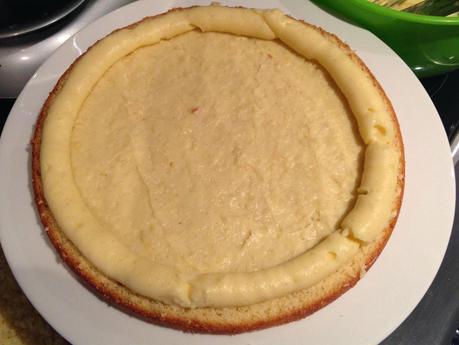 I cut the sponge into three and put the first piece on my cake stand. I spread a thin layer of the creme patisserie onto it, then piped a border of it around the edge.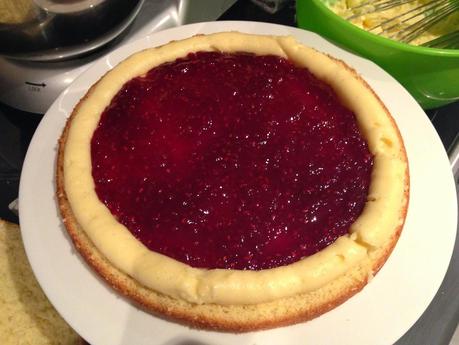 I added raspberry jam in the middle and spread evenly. At this point I got a bit confused and put the second sponge on top without adding cream over the jam first. To be honest at this point I was pretty tired and it didn't affect the end result.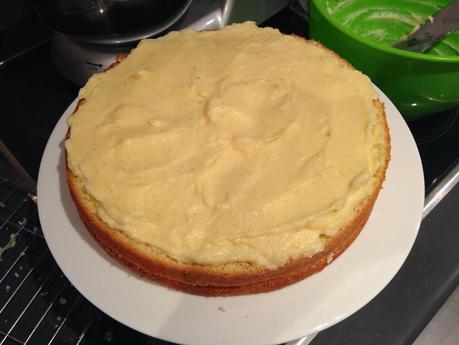 I put the second sponge on and spread over the rest of the creme patisserie.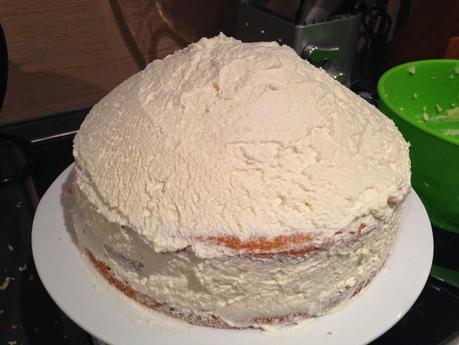 I placed the final sponge layer on, then whipped up 700ml whipping cream with 2 tbsp icing sugar and 1 tsp vanilla sugar and spread it over the whole cake, making a dome shape on top.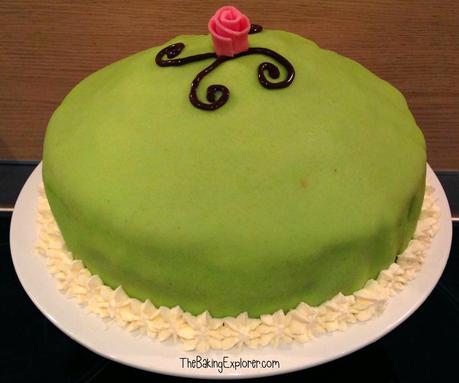 I kneaded some green food colouring into 400g natural marzipan and rolled it out. Now I am not the decorator type. Baking I can do, but when it comes to decorating I lack finesse! The marzipan went on fine but I couldn't get it smooth all the way round.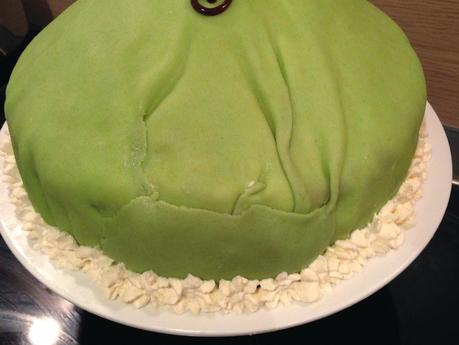 So I end up with what I shall call and 'ugly bum' at the back of the cake! Ah well. I cut the edges off and piped cream around the bottom. I melted some dark chocolate and piped a design on top, and finally added my pink rose.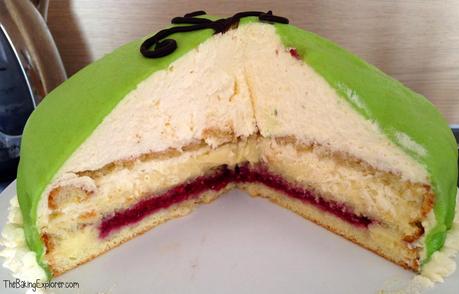 When the cake was cut the layers were clearly defined which I was really thrilled with! It's a very indulgent cake as there is obviously a ton of cream. The creme patisserie was really delicious and I'll definitely make it again. I'm not a huge fan of marzipan but it's not overpowering. I think a version of this cake covered in chocolate icing and maybe with some extra jam would be really good. Overall, although time consuming, the different elements weren't as difficult to make as I expected. It went to plan, although I had the luxury of time, which the Bake Off contestants do not! I think with as much time as I had they would have produced similar if not better results.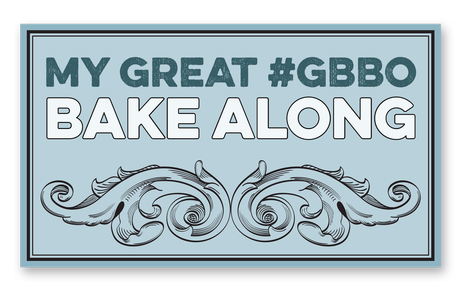 I am linking up again to Supergolden Bakes GBBO Bake Along.
Recipe from The Telegraph.