I saw a Wet N Wild Spoiled nail polish display a few weeks ago and snatched up a couple that caught my eye. For the price of $1.99 per bottle, I figured I could afford to hate them if they didn't work out!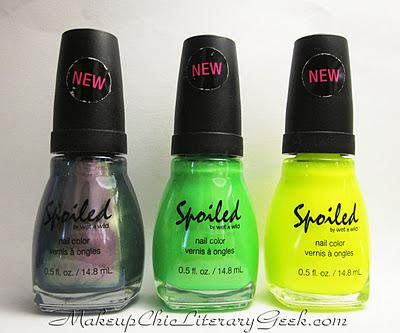 Spoiled by Wet N Wild (left to right): Paying with Platinum, I'm so Jaded (which I believe was mis-marked and is actually Permission to Proceed), Did I Dye it Too Blonde?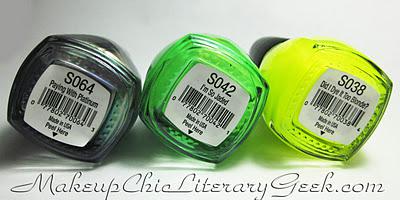 I'm not sure how I feel about the names to be honest. Platinum has a subtle blue sheen (this polish doesn't have blue in its duo), jade is not bright lime green (assuming I'm wrong and it isn't mismatched), and the blonde name is so long! Not that it's a huge deal, but I hate when a name is so long that I can't remember exactly what it is. ;) I know I'm not the only beauty blogger raising an eyebrow at some of the names from this collection--some are just...yikes.
Paying with Platinum
Color description -
In the bottle this looks like a dupe for Ki--kind of a silvery gun metal gray with purple and green flashes. Once applied, this is more of a milky silver with a subtle lavender sheen.
Application/Opacity - This had a decent formula with very mild streaking. I found that at 2 coats it was too sheer and had no flash to it. At 3 coats it was mostly opaque (but not completely) and had a subtle flash of lavendar.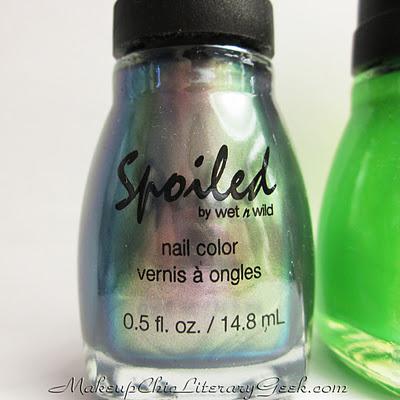 Isn't this gorgeous in the bottle? I was really curious to see how well the duo held up once applied.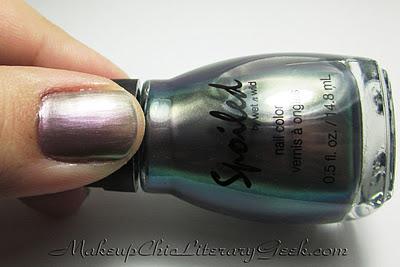 I was surprised by how well my camera picked up the lavender flash, it was actually a bit more subtle in person. As you can see, there is no green flash like in the bottle.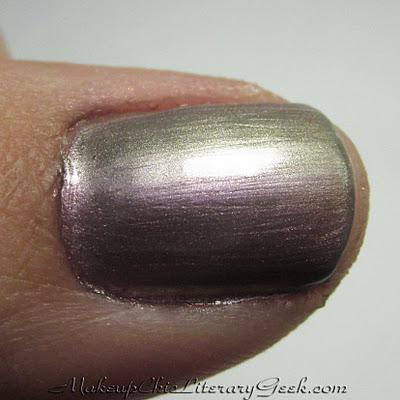 Here's a closer view of Paying with Platinum. Again, no green to be seen, but definitely some lavender. Again, my camera picked up the duo a bit more than my eye was able to!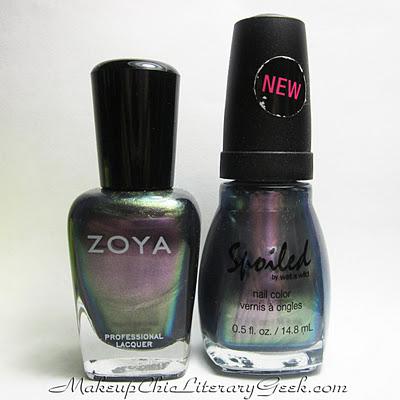 I'm usually very good when it comes to color memory. The second I saw Paying with Platinum I knew it looked like a perfect dupe for Zoya Ki. Look at that!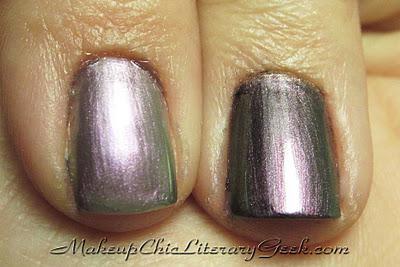 You saw how crazy-close these two looked in the bottles. Nothing like what they look like on your nail! They are like night and day. In fact, Paying with Platinum almost reminds me of lighter, reverse Zoya Adina once applied.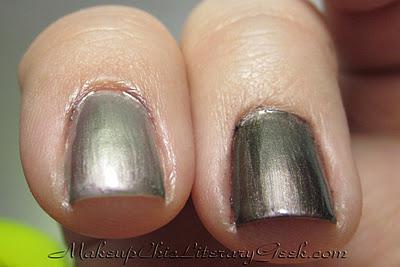 Here's a shot from a different angle so you can see how they both change for fun! Anyway, as you can see, Zoya Ki and Wet N Wild Spoiled Paying with Platinum are not dupes.
Did I Dye it Too Blonde?
Color description -
This is a hot, dayglo, highlighter yellow that is
nuts
in person!
Application/Opacity -
I had my fingers crossed that this would be opaque, but kind of assumed it wouldn't be given the fact that I rarely see a color like this that's actually opaque. Unfortunately, this was semi-sheer. I honestly didn't mind that it was, but if you're looking for opacity keep looking. This applied very smooth and it was even, though sheer. I tried this over a white polish, but didn't find that it did the trick (see below).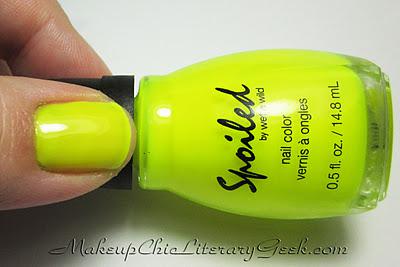 I think this is a super hot yellow and I don't mind at all that it's somewhat sheer. It glows! It dries a tad matte, but not? You'll see!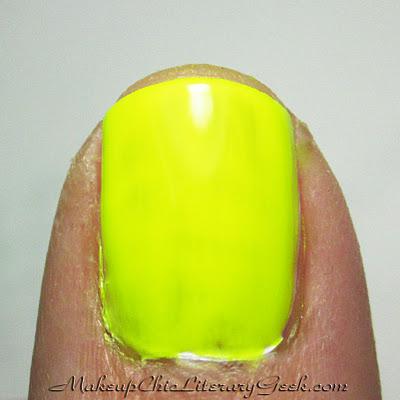 Wet N Wild Spoiled Did I Dry it Too Blonde over China Glaze White Out - First of all, excuse my horribly dry fingertip. I literally washed my hands non-stop for almost 10 days while the boys were super sick so my hands are so dry. I've already exfoliated them and I've been soaking them in a vast array of oils and moisturizers, but winter up here is pretty harsh so it's gonna take some time. For some reason this looks a lot more even than it was in person. It was far more patchy. I have no idea what happened, I think part of it was the fact that I find that my China Glaze White Out is a bit of a pain, but layering these made it look awful in comparison to Too Blonde on its own.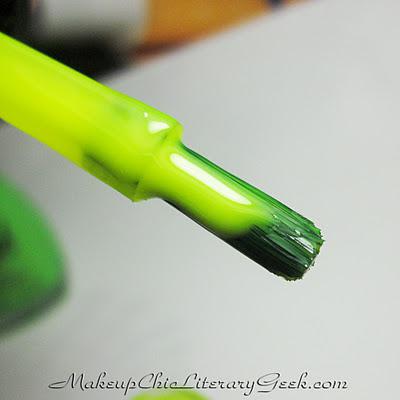 The brush - It was very hard to capture and I have no idea why, but the end was extremely uneven and chewed up. It did make applying the polish a tad more difficult.
I'm so Jaded (or Permission to Proceed?)
Color description -
Bright, in-your-face lime green with subtle gold micro-glitter. Even though this is labeled as "I'm so Jaded", it matches images I've seen of Permission to Proceed so I think this was mis-labeled.
Application/Opacity - This applied beautifully! I did 2 coats and found it to be perfect, but you could do a third if you applied it thin and wanted it a bit more vibrant.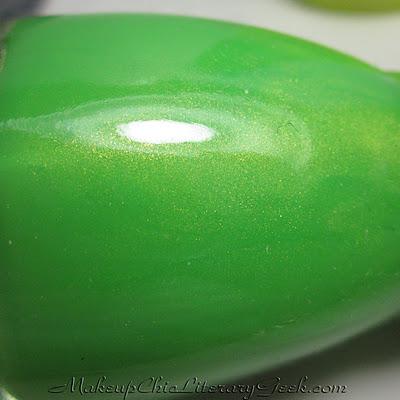 Oh. My. Gosh! If you're a fan of green (my favorite color my entire life) and on the hunt for the perfect lime green polish--this is it!!!! I have quite a few neon greens and this is absolutely a top-contender for the spot of my favorite green polish. I have to grab another bottle just to make sure I never run out because I plan to use this a lot this Spring/Summer!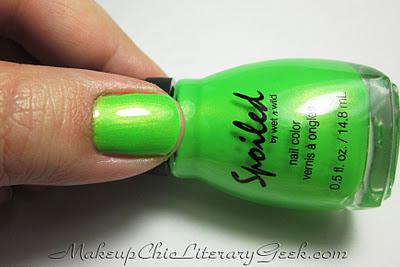 This takes my breath away! My nails looked like lime jelly beans sprinkled with gold dust! Ah!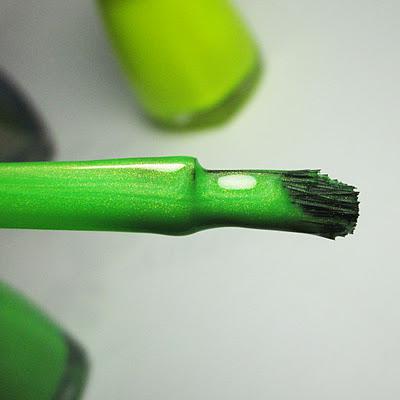 I knew a polish like that was too good to be true--the brush was a nightmare! It was uneven and chewed up horribly. It made applying this polish take a bit longer than usual. I have no idea why all 3 of my brushes were kind of a mess. I forgot to take a picture of my Paying with Platinum brush, but it was uneven as well. It's sad, I hope it was just a random, bad batch. I'd hate to see every brush like this. Did anyone else have this problem? I adore this polish regardless, it is amazing!!!!
Price
Wet N Wild Spoiled nail polishes are priced at $1.99 retail. I repeat, these are under $2 for fabulous polishes!
Where to Buy
I believe I heard these are CVS exclusives and the 2 displays I've seen have been picked through fairly thoroughly as the last couple weeks have gone by. I'd run out now and grab some if you're interested! 
Final Thoughts
Even though my brushes looked as though someone had tried to eat them for snack, I'm super impressed with these polishes! Application was smooth and even though 2 weren't completely opaque, they were pretty anyway. I'm so Jade (or Permission to Proceed) is absolutely my favorite, followed by Did I Dye it Too Blonde?. I've gotta get a second bottle of the lime green and I need to get my hot little hands on Shrimp on a Barbie, Plenty of Fish in the Sea, Kickin' The Habit, Battle Of The Sexes, Are Mermaids Real?, and Black Mamba.
I've gotta find some new displays to pick through! What do you think, have these caught your eye?