Before I get into my review, I have a slightly sad story to tell. Well, not super sad, but frustrating for sure. I had swatched all of these and taken pics not too long ago. When I went to transfer my pictures I somehow managed to delete all them off the
memory card
of my computer! Now, usually I don't delete pictures off my memory card until reviews have gone live just in case. Ironically, I've never had anything like this happen ... but I suppose it was bound to someday (over 2 years of nothing like this happening prior). Anyway, I spent the better portion of the day intermittently freaking out and researching the best photo recovery programs that can be used to recover media off memory cards. By later that evening I had finally found one program that worked, but unfortunately it only recovered half of my photos and half of the ones that weren't recovered included all of the pictures for 2 shades. Since then I've tried 4 additional programs to see if I could recover pics for those 2 shades. No luck. Now, the reason I didn't just pic those bottles up and swatch away is that I have very sensitive skin. When I swatch 6 polishes in a row like this my skin literally cannot handle any more. This is one reason I tend to only put out larger swatching posts like this once a week. I tip my hat to all of the amazing bloggers that can do more--I wish I was one of them and I regularly am in awe of them! Anyway, that's my whole deal that I thought I'd share so that when you see these pics and say ... why are there only swatches for 4 shades? There's your answer. I'll try to swatch the other two and add them in later on! On to the swatches...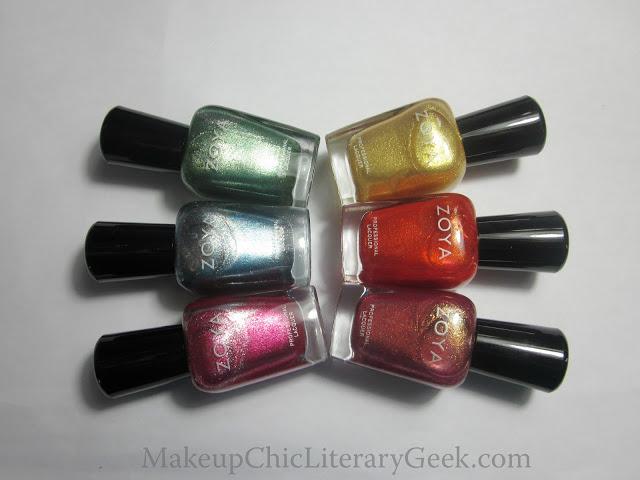 Zoya Summer 2013 Irresistible Collection (left from top to bottom): Rikki, Hazel, Bobbi
(right from top to bottom): Kerry, Amy, Tinsley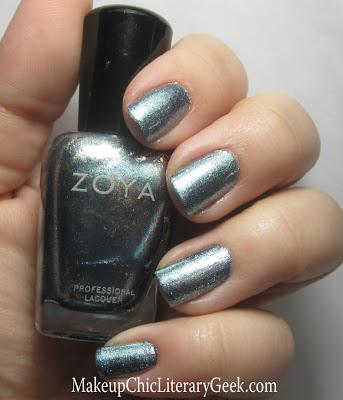 1 Coats Zoya Hazel - This is a gorgeous blue foil with little bits of brass-colored glitter sprinkled in.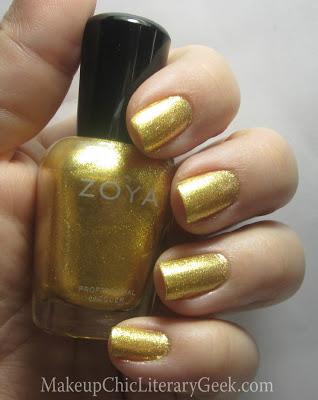 2 Coats Zoya Kerry - luxe yellow-gold foil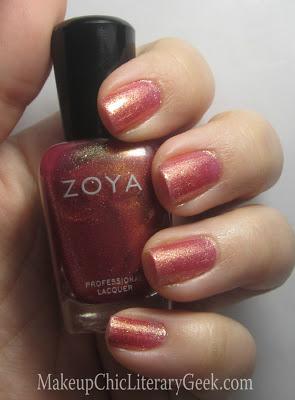 2 Coats Tinsley - rose foil with gold flash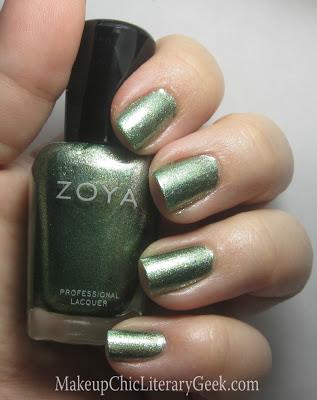 Rikki - deeper green foil with brass-colored bits of glitter sprinkled in (similar to Hazel)
Price
These retail for $8 per bottle.

Where to Buy
These can be purchased on Zoya's website HERE.
Final Thoughts
As with all of Zoya's foils that I've ever worked with, these apply smoothly and only require 2 coats for full opacity. You could probably get away with 1 coat with some of them, but I think the second coat gives them just the right amount of depth. These are all gorgeous in person (including the 2 I wasn't able to recover swatches of). I find that foil polishes tend to be love/hate with many people. If you like foils you'll love these! Kerry and Tinsley were my favorites of the bunch. Kerry is a perfect yellow-gold and Tinsley was the most unique in my opinion because the gold flash almost gave it a duochrome effect. While I don't think all of the colors are necessary summer-only, I do think they'll appeal to a number of people looking for more
unique
summer polishes.
What do you think? Will you be purchasing any of these?
Note: These products were provided by PR for review. All opinion stated above are my own based on my personal experience.