I am
so excited
to share this post with you! I'm sure you've seen me tweet and blog about A-England before. I recently mentioned the amazing sale held a few weeks ago.
From the first moment I stumbled across A-England I knew I'd fallen in polish-love. A small UK-based indie polish company that is both 3-Free and cruelty-free, A-England is the brainchild of the lovely and creative Adina. As you know I'm prone to rambling (and I can't help but gush over this company) I'll get right into the 2 polishes I purchased from The Mythicals. I do want to mention that in addition to the first collection--The Mythicals--A-England has just released a new collection called The Legend that is
to die for!
Talk about holographic-euphoria in a polish bottle! Anyway, back to Tristam and Avalon...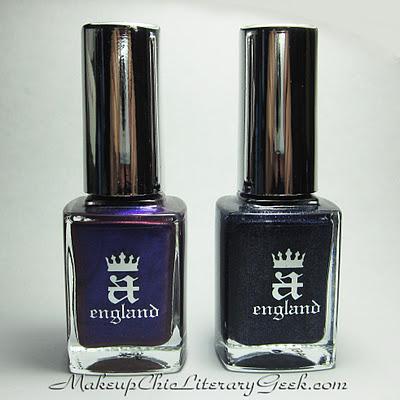 Left to Right - Avalon, Tristam. This picture doesn't do either of them justice, you'll see how amazing they are below!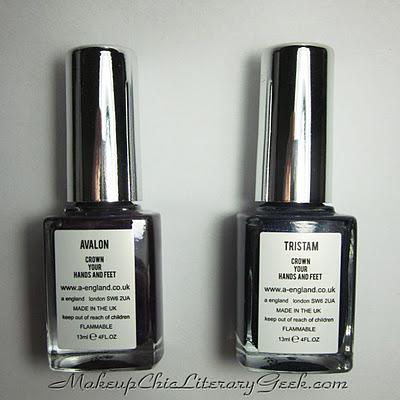 Avalon
Color description - 
This is a royal purple that glows from within with micro-fleck of blue and pink.
Application/Opacity -
Oh. My. Gosh. Now I know I'm a little picky when it comes to polish formulas, but this one blew my socks off! It applies perfectly and allows you a level of control I rarely see. There was no streaking and this polish was 100% opaque and even with 2 coats. I'd also like to point out that it dries with what might be the glossiest finish I've ever seen. Ah! Amazing!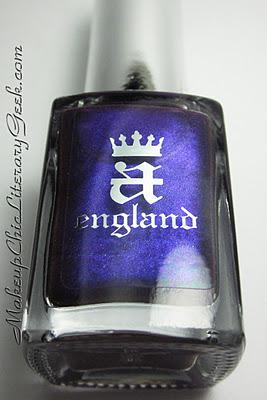 Avalon is such a gorgeous royal purple that is elegant, yet complex. There's so much depth!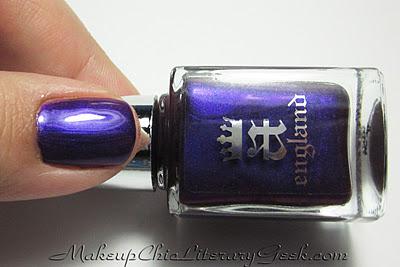 As you can see, it's very true to color on your nail when compared to in the bottle. Again, this was a dream come true to apply and the finish is glass-like perfection!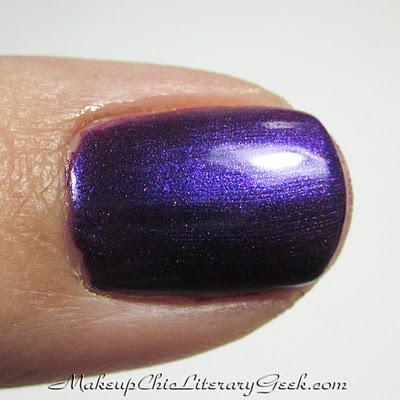 I wanted to giv eyou guys a closer look at the complexity of this polish. I tried to pick up more of the micro-flecks and less of the glossy finish so you can see them up close. This is not your average purple polish!
Tristam
Color description -
This has a deep denim-blue base
with a million micro-flecks twinkling from within.
Application/Opacity -
Again, this formula is perfection. It is smooth, easy to apply, and perfectly opaque with 2 coats. One thing I'd really like to point out is that I've tried a long list of polishes with micro-flecks and I often find that the tinted or colored polish base mutes or even conceals the majority of the flecks. I have no idea how Adina has done it, but the micro-flecks explode right out of this polish base! No need to do a quick swipe of polish remover to make these starry flecks sing, the polish is perfect as it is.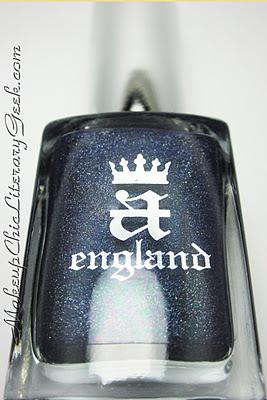 Tristam looks as though Adina bottled a starry night sky.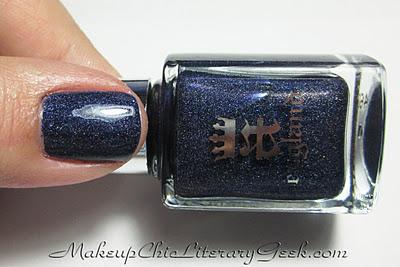 Again, you lose nothing when you apply Tristam to your nail. Tristam is as amazingly impressive on your nail as it is in the bottle.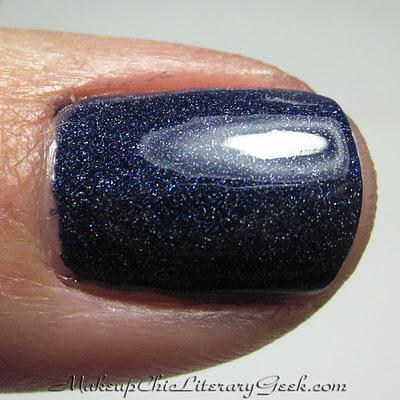 Sorry I didn't clean up for this shot, I was so excited to get this up before I run errands and get things done I took a shot right after I applied it! Just look at that crazy polish! All I can say is it's even crazier in person, if you can believe it. See what I mean about the micro-flecks not being swallowed by the base? It's almost as if the base pushed the flecks forward--nuts!
Price
These are currently sold by A-England for
£9, which converts to roughly $13.99 USD as of this post. If you're in the US, interested in purchasing, and want to know what your total will be get an accurate conversion the day you plan to purchase as exchange rates go up and down. I also want to note that A-England offers free shipping on all orders, including international orders! That blew me away and definitely makes up to a degree for the conversion rate for us here in the US ;)
Where to Buy
As far as I know, the only place you can purchase A-England polishes is directly from A-england's site www.a-england.co.uk. To purchase from the new The Legend collection, as they're not yet listed on the site, you can email A-England with your choices directly at
[email protected]
. I highly recommend following A-England on facebook and twitter and it's a great way to keep tabs on what Adina's cooking up and
see swatches posted by other A-England fans. 
Final Thoughts
As if you hadn't already guessed, I am in polish-love with A-England! Everything from the way the formulas apply to the beautifully complex shades has me gushing to everyone I know. I highly recommend purchasing. Shipping is free (even to us here in the US) and while it may take a little bit to reach you (my polish shipped on the 13th and got here last night--the 24th) it is absolutely worth it! I can't wait to purchase more from A-England. It may take a little while to get all of the colors I want (especially from The Legend collection, I'm eye-ing all of them), but I'm determined to do so! 
I only wish Adina formulated eye shadows as complex as her polishes--you know what an eye shadow junkie I am.  
What do you think? Are you as lovestruck as I am?