Hi everyone,
Today I shall be reviewing a face pack which I have enjoyed in the month of summers here in India.The heat is unbearable and although we have some respite from the on and off rainy weather we are still to witness monsoons. The major problem for us Indians is that we get tanned and our skin looks dull and lifeless.While there are many face packs available in the market I generally prefer those which are 100% natural and free of chemicals and parabens. Please read on to know my experience trying the 
Svayam Natural Orange Peel Pack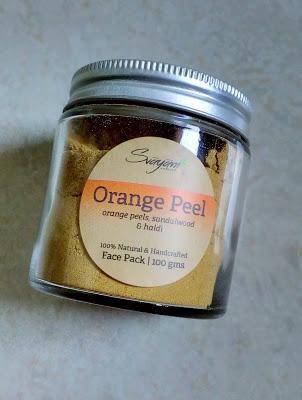 Svayam Natural Orange Peel Pack Review
Ingredients:
Orange Peel,Sandalwood Powder, Haldi
Price: Rs.375/- for 100 gm product. You can buy it online with Free Shipping  HERE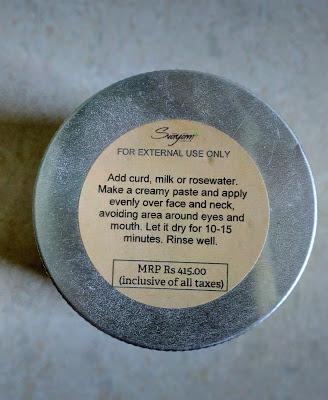 Svayam Natural Orange Peel Pack Review
Claims/Benefits:
Skin Polishing & Brightening | Anti - Tan
How to use:
For oily skin, add curd. For dry skin, add milk. For normal skin, add rosewater. Make a creamy paste and apply to face and neck. Leave on for 5-10 minutes and rinse well.
Packaging:The face pack comes in a cute jar which reminds me of my childhood. The jar is made of glass and it has a tin cap. The product is easily visible from the outside. Basic information about the product is mentioned on the jar itself. In case of travel you may need to pack it in a separate container.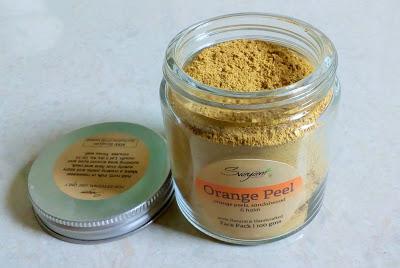 Svayam Natural Orange Peel Pack Review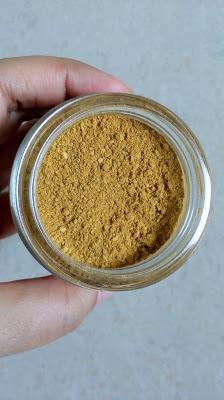 Svayam Natural Orange Peel Pack Review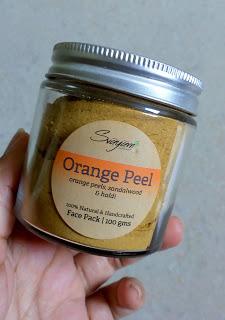 Svayam Natural Orange Peel Pack Review
The face pack is mustard yellow in color and gritty in texture. Because I have normal skin for now I used it with rose water.You must never forget the neck as it tends to be darker than the face. The pack smells like orange for obvious reasons and is very refreshing. Once it dries I wash it off and pat dry my face. The skin is instantly brightened and looks fresh so polished and brightened skin hell yes! Well about tanning I am not sure as I am not tanned at the moment but I know that orange peel powder helps in reducing tan so a big thumbs up for that and I am sure it will work in resolving that.In my opinion this face pack will work best for all skin types especially during as the skin tends to get dull,tired and tanned. I highly recommend you to check this product out.
MLWM Rating:4.5/5
Svayam Natural Orange Peel Pack Review works best for all skin types and makes the skin look refreshed and polished with regular use. With no parabens and no chemicals or artificial ingredients this one is surely a winner in my opinion.
Read my other product reviews from the same brand HERE
I hope this review was useful to all of you. Please comment below and let me know your thoughts. Also have you tried anything from Svayam Natural before???
Until next time.. Take care xoxo