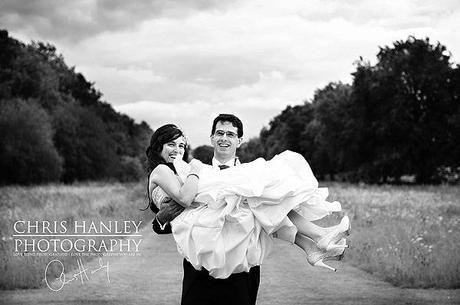 Thanks again to Chris Hanley Photography for sharing such incredible images for this feature. I am always blown away by the magic inside Chris's camera. Today we're back at Hengrave Hall in Suffolk for more from beautiful Suzy and Bruno – who is responsible for my favorite image from this wedding day: the most loving hug you'll ever see on a wedding blog!
Enjoy. xx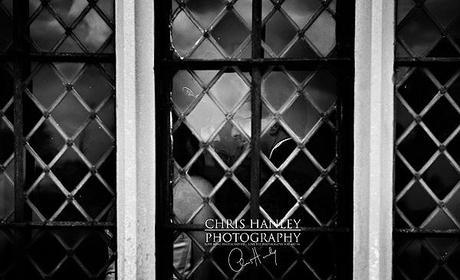 This is a lovely idea: the tiny panels of glass in the windows of Hengrave Hall afford us a private glimpse of Suzy and Bruno together. I love proper panelled glass windows when they sparkle in the sunshine – to see them used so beautifully in a wedding picture is a treat!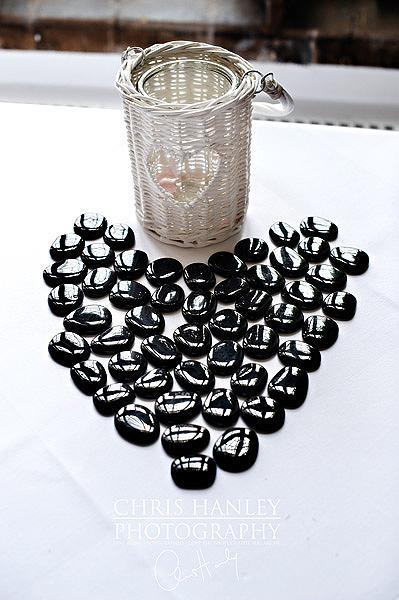 Wishing stones! I haven't seen this before – it's a lovely idea.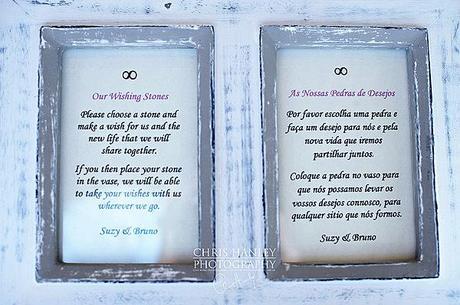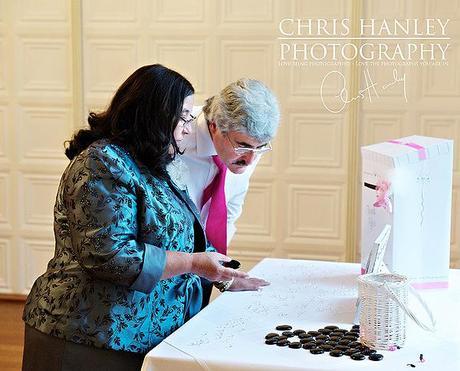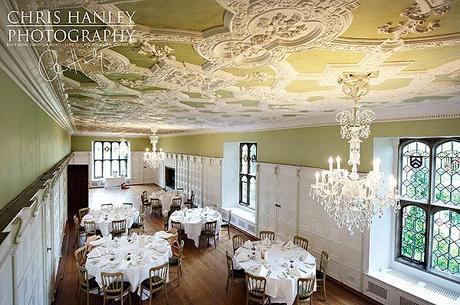 (Mental image of Chris levitating to perch on the ledge for the sake of his art…) This is a beautiful image with that fabulous ceiling in the Long Gallery at Hengrave.
When I interviewed Chris Hanley in July for the English Wedding Showcase he said something that sticks in my mind: whenever he's asked to photograph at a new venue he'll look online at what other photographers have done there. The angles they shoot from, the images they take. And he'll do something new, exciting and different.
Clearly, this is one of those occasions! I love it!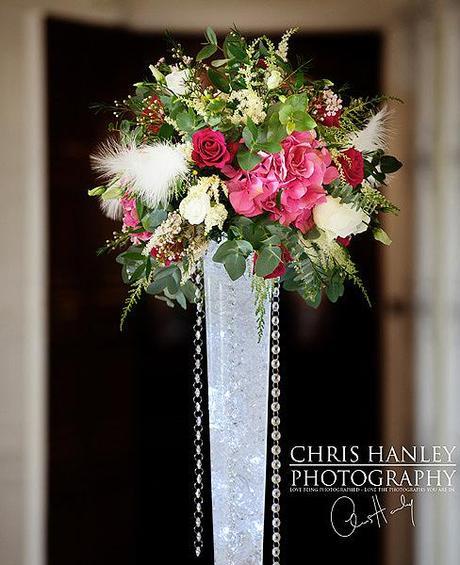 The table centrepieces are statuesque and make for great talking points! I've used these as a feature in the 'Pretty in Pink' wedding inspiration board coming up on the blog tomorrow.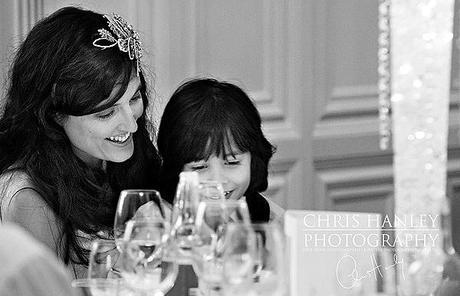 Here's a photograph I really love: a natural family photograph, all smiles and tenderness.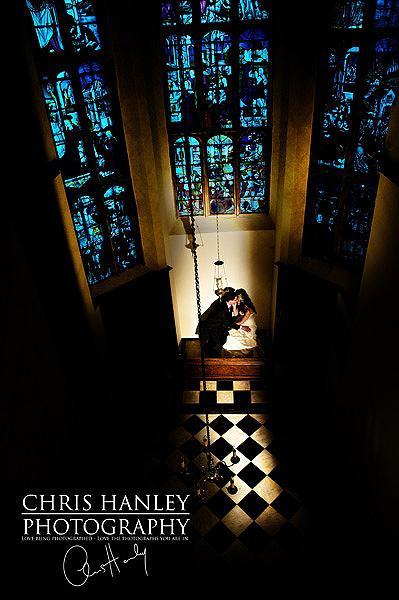 And the most incredible contrast brings us to this creative photo of Bruno and Suzy sneaking a private moment in a quiet corner of the Hall.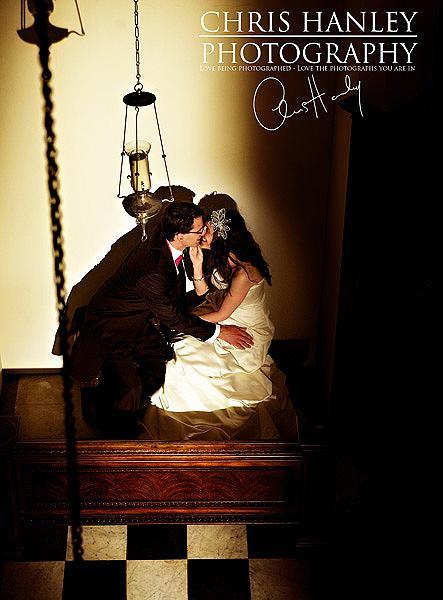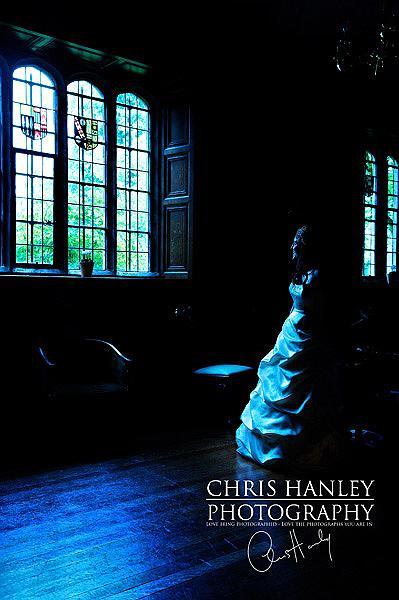 I adore the lavish, rich blue hues in these pictures. A simple portrait of Suzy in the light from the window becomes enchanting and mysterious – and below, Hengrave's majesty lives up to the description on the website of "a rich jewel itself in the heart of Suffolk's astounding countryside".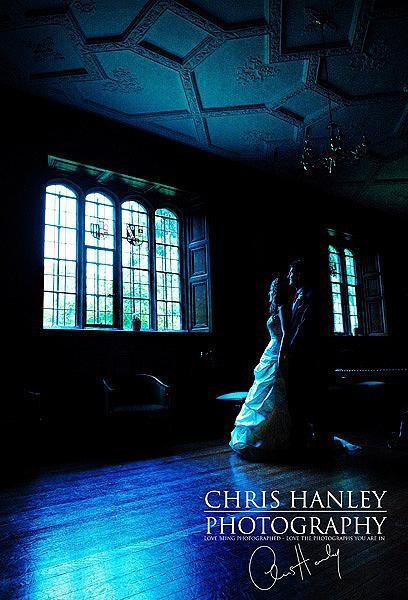 They're almost frozen in time… this is beautiful.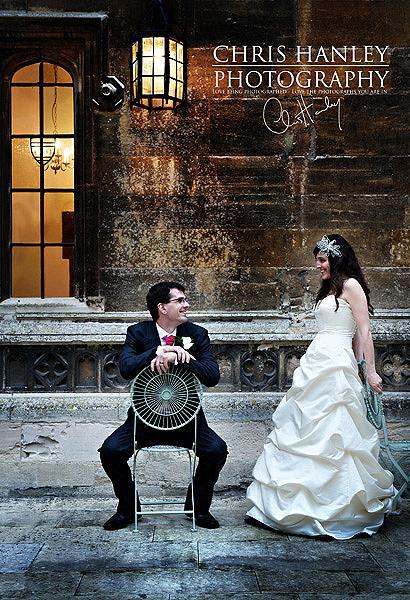 Hengrave Hall is a Grade I listed building and as such it has some fabulous features – not only the rich panelling inside and those stunning windows, but the weather worn stonework adds texture and interest to more fabulous wedding photographs.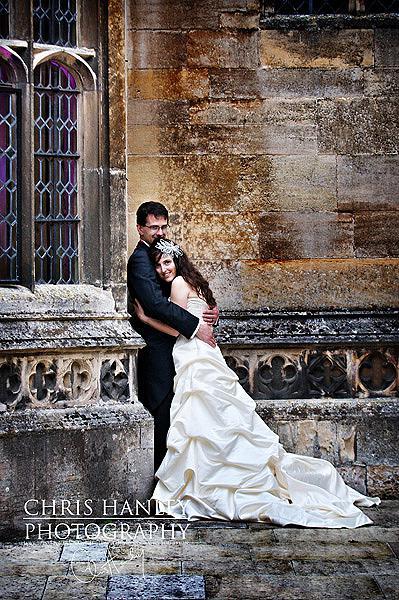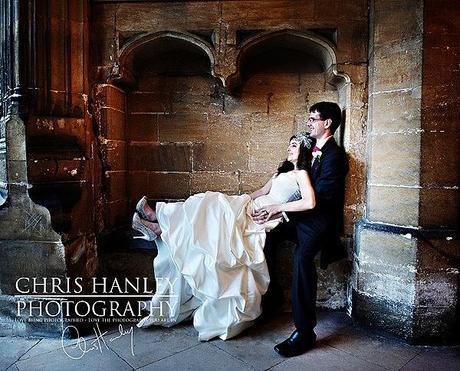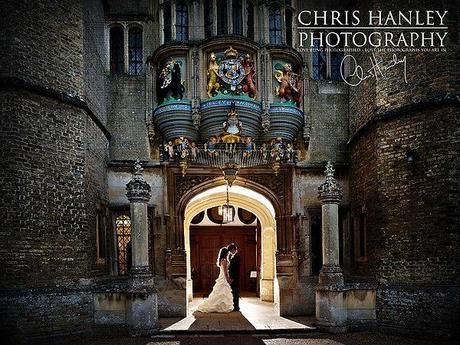 Outside Hengrave Hall – a magnificent entranceway and a perfect 'frame' for this photograph of Suzy and Bruno. The lighting is just one more special touch which brings me to a more serious note: if you're hiring an impressive stately home or castle wedding venue you absolutely HAVE to spend on your photography. Find someone who will discover both the obvious and hidden beauties of your venue and include them in your wedding photography.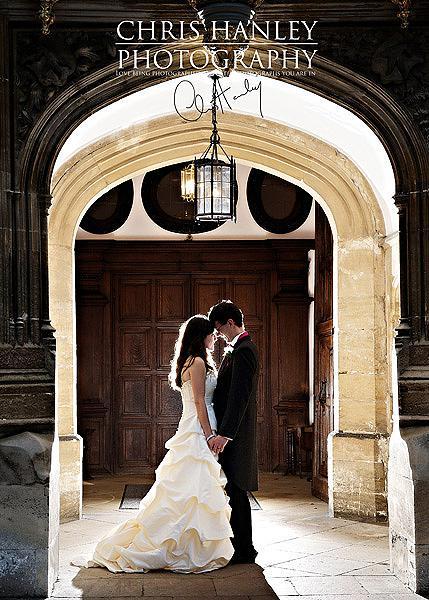 Did I mention there are gardens at Hengrave Hall too? This exquisitely beautiful Tudor mansion has almost fifty acres of sweeping lawns and meadows and its very own lake! So – time for some fabulous images from around Hengrave's gardens.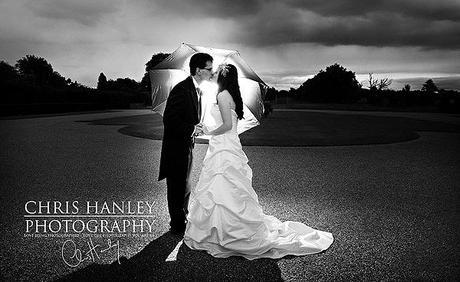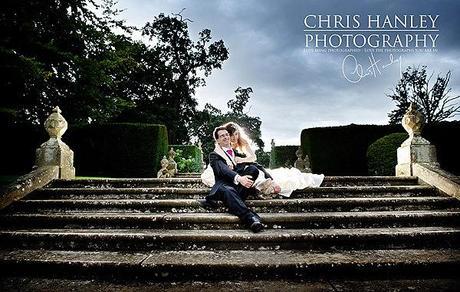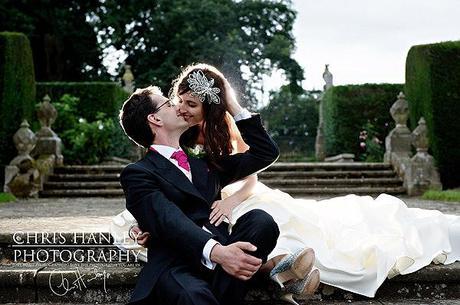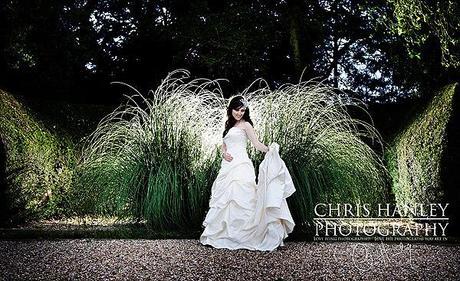 These photographs are out of this world. Suzy and Bruno must be delighted with their wedding album! For once I'm lost for words…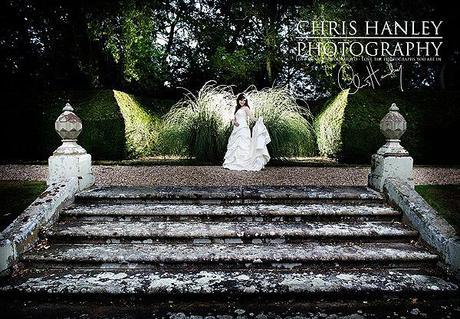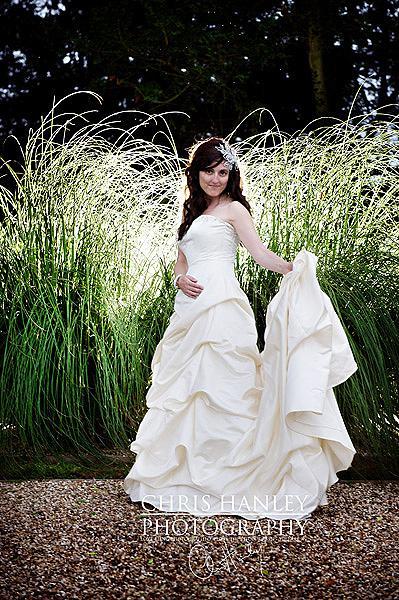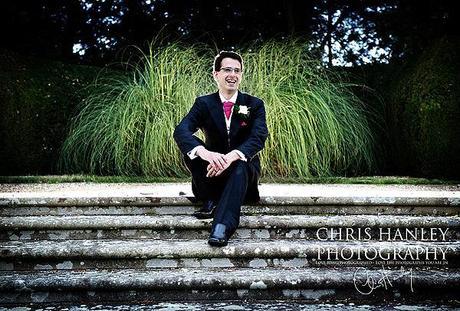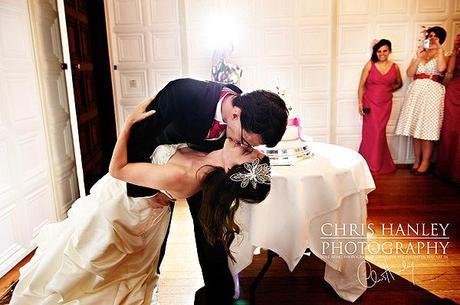 And last but by no means least, the first dance – check out the shadows on the wall – and that cuddle I promised you. This is so romantic…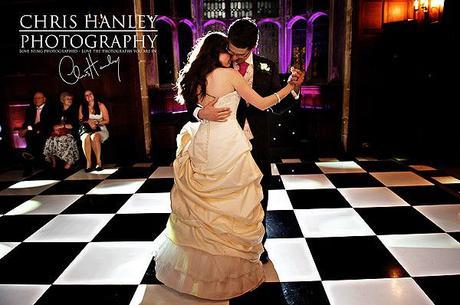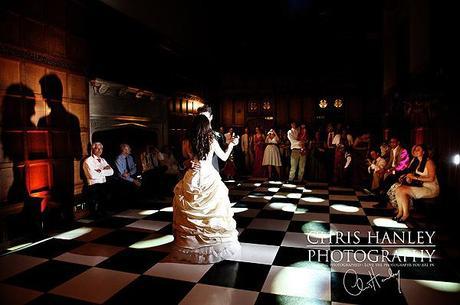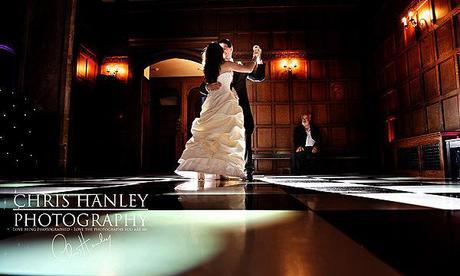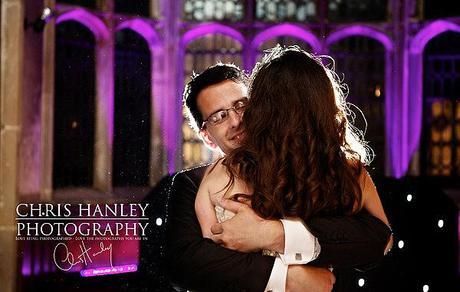 Congratulations to Suzy and Bruno – I'm sure you'll have many, many very happy years ahead of you both. Thank you to Chris Hanley Photography for the submission – definitely the best possible choice for my 200th real wedding on the blog.
One more tomorrow! I promised you three parts. The third is a wedding inspiration board - wedding cakes, centrepieces, a word art table plan (ooh… and on goes a lightbulb in my calligraphy hat!) The clue to this one is in the title: I'm calling it "Pretty in Pink"!
Have a wonderful day,
Claire xxx