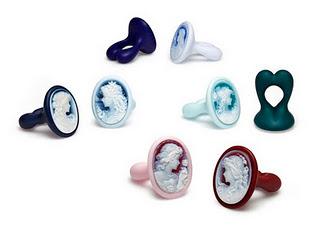 I was recently introduced to the work of Susanne Klemm, a talented Dutch jeweler whose work is currently for sale at Moss in Soho.
For this mini selling- exhibition, Moss is presenting a series of Klemm's Sweetheart rings from the Red Light Collection. The rings, made of agate cameo and epoxy, come in a wide range of colors and combine the romanticism of cameo jewelry with the boldness of pop art. The cameo work, created through the use of a mold and layered and engraved by an ultrasonic machine and then transferred onto epoxy, was done in a small workshop in East Germany. The rings are conversation pieces, voluptuous like a woman's curves and bright like their personalities.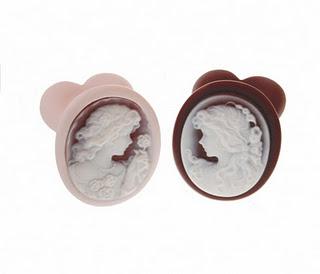 The Red Light Collection was born in 2009 when Klemm was given a temporary workspace in a former brothel in Amsterdam's Red Light District (the bed was still in place when Klemm moved in). While this may sound a bit unusual, this was the concept behind the REDLIGHT Design Amsterdam Project and Klemm was one of the six jewelers selected by Droog Design and Gallery Ra to participate in the project. The goal was to bring a more diverse public to this notorious part of town. Each month Klemm would exhibit the work in her shop's window in hopes of promoting contemporary jewelry. She got to know the working gals around her and also their suitors- many who were confused by Klemm's presence  in the District.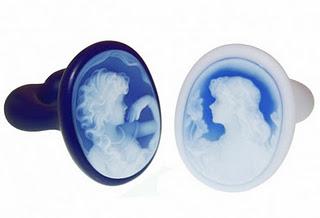 The result is a collection of jewelry inspired by Klemm's surroundings. Some of it is quite sexual in nature, (the aptly titled Wood rings are, you guessed it, wooden rings resembling erect penises and the Teaser rings are embellished with leather whips) but not all. The Sweetheart rings (brought on by an assignment that Klemm received to design a cameo ring) are not at all perverse but instead celebrate femininity and friendship. Klemm likes to think of the group as chatting ladies, loyal to one another and part of the same sisterhood. Undoubtedly the artist's neighbors in the District left a positive impression on her. However, unfortunately for Klemm, the working gals preferred diamonds to plastics so she probably will not be seeing them anytime soon.
Around this time last year pieces from Klemm's Frozen collection (inspired by frozen objects in nature) were exhibited at Gallery Loupe in Montclair, N.J., where interested parties can also purchase her work. 
For more information on Klemm's work:
http://www.susanneklemm.com/
http://galleryloupe.com/