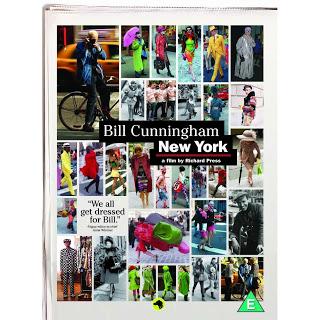 I was flipping through the September issue of Vanity Fair magazine the other day and was amused by the inclusion of Bill Cunningham in the 2012 International Best Dressed List. Riding around New York on his red Schwinn bicycle, Cunningham can hardly be considered a style icon although he is responsible for photographing so many of them. This mention, and a rainy afternoon, nudged me to (finally) watch Bill Cunningham New York, a delightful documentary about the fashion world fixture directed by Richard Press.
Naturally the film follows Cunningham around New York, and bit around Paris, as he attends fashion shows and charity galas taking more than enough shots to fill "On the Street" and "Evening Hours", his two weekly columns for the New York Times.
Two things struck me the most as I watched this film. The first is how much Cunningham loves what he does. Every photo is taken with a smile, every admirer is endearingly called "child", and rain or shine, no opportunity to capture beauty is ever missed (he actually perfers the snowy days of New York because those make for the most interesting photos). And second, how little one needs when they are doing something that they love. Although he is invited to every lavish gala in town, he never eats or drinks on the job opting for Chinese take-out before each event and lives in a tiny apartment with no kitchen, bathroom, or proper bedroom (since the film came out, Cunningham has been relocated against his will to a not so shabby apartment overlooking Central Park but originally lived in a teeny tiny room in Carnegie Hill Studio right above the concert hall from which he and other life-long tenants were evicted from). His most prized possessions are filing cabinets filled with photos that he has taken through out his career, which began in the early 1950's. And he would undoubtedly laugh about being called a style icon. Cunningham wears the same blue French working men's jacket (the same one worn by the sanitation crew) every day, a staple that he picks up at the BHV across from the Hotel de Ville in Paris.
His life-long love affair with fashion has been his most important relationship. There is a point in the film where he explains that it is not about taking photos of famous people (he passes on the opportunity to photograph Catherine Deneuve one evening because she isn't wearing anything particularly interesting) but that for him it is all about the clothes. The cookie-cutter "uniforms" that many women wear today do not interest him but individuals, people who are not afraid to stand out, do. Some of these individuals are interviewed in the film, like "Dandy of New York" Patrick McDonald,  "Rare Bird of Fashion" Iris Apfel, and "Walking Fashion Museum" Anna Piaggi (probably captured on film for the last time as she passed away this August).
I often see Cunningham at various press events and art & fashion openings around the city. Sometimes I purposely parade around him just so that he can catch a glimpse of me and, perhaps, snap a photo. I once even complimented him, telling him how much I admired his work. "Thank you, child" he said to me as he hurried off to catch a fabulously dressed swan. At some point in the film, Anna Wintour admitted that he doesn't always photograph her. I don't feel so bad anymore.
On the other hand, maybe Cunningham is a style icon. Like the individuals that he likes to photograph, he is easily recognizable for a look that is uniquely his: blue men's jacket and a camera swinging from his neck.