March

10

,2016
Trivia Answer: Wilmer Valderrama played FEZ on That 70's Show

First Fives: Elke Raskob, Mike O'Dea, Andrea Jody

, Bill McLaughlin & Dave DeSocio



Honorable Mention: Daniel Block

THE NUMBERS
Tuesday's Broadcast Top 5
The Voice-NBC 3

.1/13.5
Little Big Shots-NBC 2.9/12.8
Fresh Off the Boat-ABC 1.4/4.9
NCIS New Orleans-CBS 1.2/8.

4
New Girls-FOX 1.2/2.6
Tuesday's Cable Top 5
People vs. OJ-FX 1.2/3.0
Big Bang Theory-Adult Swim 1.0/2.1
American Dad-TBS .9/2.5
Fixer Upper-H

GTV .8/2.3
Haves and the Have Nots-OWN .7

/

2.6 
Tuesday's Social Media Top 5
Teen Wolf-MTV 177,000 Tweets
Pretty Little Liars-Freeform

65,000 Tweets
The Voice-NBC 56,000 Tweets
People vs. OJ-FX 39,000 Tweets
Marvel's Agents of SHIELD-ABC 31,000 Tweets 
THE SHOWS
Survivor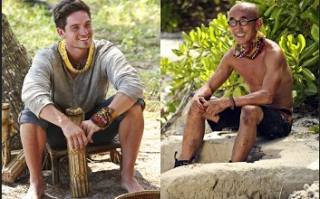 Whyyyyyyy??? Whyyy couldn't it have been Debbie who was pulled from the game? Whyyyyy did it have to be Beastmode Cowboy Caleb?  It was crazy hot in Cambodia. First Debbie went down during the reward challenge, then Caleb went down and then Cydney. Good to know that Survivor has enough medics on staff to handle so many people at one time. Jeff never seemed to be too worried, did he? He was crazy calm. I was freaking out screaming at my TV "Calllllleb!!! Give Jeff the thumbs up, rip off that oxygen mask and get back to the game!" but Jeff Probst kept his sh*t together. Who'd have thought that out of those 3 it would be Caleb who had to be evacuated. Poor Tai, did you see him lose it when he heard that his BFF was gone from the game for good? Tearsssss.
Me too Tai, meeeee toooooo!!!!
I've been watching Survivor since day one. 3 people going down in a challenge has never happened before. I'm really, really hoping Caleb comes back to play again. His abs were meant for this game. Note to the producers: We all can understand Tai, no subtitles were really necessary. Great for comic relief during such a stressful episode, but America can understand the man so you may want to save some money and let the subtitle dude go home. Back to the game, I am glad that Alecia's gone but Scott the NBA dude is a cocky a-hole. Can't wait for someone to blindside his ass and send him back to his home court.

Hope he takes Debbie with him. Can't stand either one of them.
THE OTHER STUFF
-You know it's a slow news day when all

I got is Mercy Street on PBS being renewed and Sharknado 4 coming back this Summer.
I mean seriously, that's it. That's all I go

t. 
-Wait...here's one thing you migh

t find a little bit interesting.

Google Chromecast was the #1 streaming device last year. I'm a Google Chromecaster and in 2015 42 million of those little doobies were ordered and sent out t

o the world

. Apple TV is still the overall leader but Google's nipping right at their heels

. 
NOW it's over...that's really all I have

but wait..

.there's trivia!  
Thurs

day's Trivia Question: What was the name of the department store

that Drew Carey worked in?
WWTM-Kristy
Like me on Facebook at Watching Way Too Much
Follow me on Twitter at tvnme
http://watchingwaytoomuch.com
[email protected]