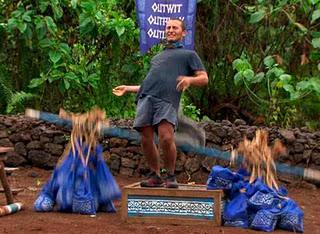 Let's talk about last night's Survivor episode for a little bit, shall we? You have the full recap here, but I'd like to go over some of the details as well.
Coach is getting a very Boston Rob-esque edit. Can we talk about winner speculation already? Because this is exactly what I see in Coach after four episodes. A final three with him, Brandon and a brain-dead girl like Edna - who annoys everybody - would make perfect sense, at the rate things are going right now. And guess who would get all the votes in a situation like this? On the other hand, I feel Coach has seriously improved his social game compared to the previous two appearances. He's more self-assured and God knows I loved him for putting Brandon in his place (and so did Russell, as he expressed last night on Twitter). Even though I will always be on #teamOzzy, Coach is a close second on my favorites list.
A very gentleman-like exit. In a very close match, Christine beat Mark, who became the second castaway and Savaii member to go home. As much as I dislike Christine, the good thing out of this is that we are done with the Papa Bear crap.  
The double date. There's been a rumor that Keith and Whitney were dating after Survivor finished filming. After seeing this episode, I'm inclined to believe it. As for Ozzy, he found a new Amanda in Elyse. The problem is, Jim knows how powerful a couple can be in this game and orchestrated a side alliance with a more than willing John, who wants to stay in the game by any means necessary. Convincing Dawn was not hard - as much as she might have found Ozzy helpful in the first days, she's still on the bad side of the numbers  and she won't hesitate to screw things up for him, given the chance. Unfortunately for Jim, Ozzy doesn't like his constant talk of strategy, so who will blindside whom eventually? And can I just remark on Jim's lame reactions?
Dawn is my new hero. Who cares that Jim and a very psycho-like Brandon beat Rupert's record in what was a classic Survivor challenge of physical and mental strength? Dawn was amazing and you can say she won that challenge for Savaii. I just love strong women in this game.
Scrambled eggs. Between Edna and Stacey, we had our fare share of scrambling in the Upolu camp. While Stacey managed to plant the seed of distrust in the tillable mind of Lil Hantz, Edna came up with a different strategy: be as annoying as possible. Stacey and Mikayla were not the only ones hating her little laugh and her endless questions, I did too. I've never really liked Edna, but now I definitely wish her gone. 
Brandon is dissolving. Piece by piece, the little troll is digging his own grave. Apologizing to Mikayla and Christine was not enough, he had to create the monster known as the all-opinionated Edna by telling her she's really not in the core alliance. Of course, everyone wants to take Brandon to the end as he has absolutely no chance to win, but will he actually last that long?
No love for the wicked. Stacey's efforts in the challenge didn't do her any good and it was proven once again that being physically strong is not enough in this game. You have to make an effort to talk to people as well. But how can you connect to the others when they don't understand a word you say? Stacey is now off to face her good and equally enraged friend Christine on Redemption Island, not before refusing the hug Coach offered to her. Would you hug the person who voted you out?
The preview for the next episode shows us that Coach really hates being called Benjamin and that the tribes will compete in a very disgusting challenge (oh, how I've missed those!). Any predictions on which tribe will win?