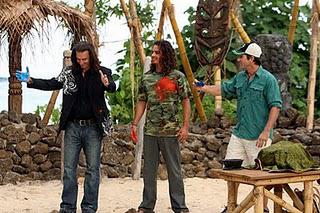 Original Air Date: 14 September 2011 (covered days 1-3)
Reward Challenge Winner: Ozzy for Savaii
Immunity Challenge Winner: Upolu
Voted Out at Tribal Council: Semhar (8-1)
Recap: The sixteen new castaways rowed rafts ashore to the Redemption Island Arena to await the arrival of Coach and Ozzy by helicopter. To determine which tribes the two returnees would join, Jeff gave them both an egg with blue or red paint inside. The two crushed their eggs to reveal that Coach joined Upolu and Ozzy joined Savaii. Coach's welcome to his tribe was cold, while Ozzy was received with a lot of enthusiasm. 
Jeff explained that Redemption Island was in play and that a Reward Challenge would begin immediately between Coach and Ozzy. The challenge consisted in climbing a 12-foot (3.7 m) pole to retrieve a wooden turtle. They would then have to dig themselves under a log. Finally, they would solve a six-level Tower of Hanoi puzzle with the turtle as the top piece to win the challenge. 
Ozzy took an early lead and both players struggled with the Tower of Hanoi puzzle, requesting help from their tribes. While Upolu gave chaotic indications to Coach, Savaii's assistance was pivotal and Ozzy won reward (Taro and flint). 
When Upolu arrived at their campsite, Coach tried to charm his tribe and overcome his cold greeting, while Christine went off to look for the Hidden Immunity Idol. Brandon decided to keep his relation with Russell Hantz a secret from the tribe, a difficult thing to do, since he has two tattoos with Hantz on his back and arm. On the first night, 
Coach formed an alliance with Albert, Brandon, Rick, and Sophie. 
Over at Savaii, Ozzy suggested to relax while taking a dip into the ocean and bond. On day 2, Dawn had a minor emotional breakdown, realizing that she is a lot older than most of her tribesmates. This worried Papa Bear (Mark Anthony) and Ozzy, who, in turn, tried to help get get over her paranoia. 
The first Immunity Challenge was called The Coconut Conundrum. The tribes would race through an obstacle course of zigzagging pathways, through a web of strung up coconuts, and over a 10-foot (3.0 m) wall. One tribe member would then dig up a machete and use that to cut five ropes, which would release a bin of coconuts. Three tribe members would then shoot the coconuts through a hoop into a net. When enough coconuts were shot into the net, the net would raise a flag. The first tribe to raise their flag would win.
Despite Savaii's efforts, the challenge was won by Upolu, in what Jeff called the closest challenge in Survivor history. In addition to Tribal Immunity, Upolu received flint and was told that a clue to the Hidden Immunity Idol was hidden at their campsite. 
When Savaii returned to camp, Semhar and Jim had an argument about Semhar's effort at the Immunity Challenge. She had volunteered to throw coconuts into the basket, but got tired very quickly, and Ozzy and Keith came just one coconut short of victory. Most of the tribe wanted to vote out Semhar, while Ozzy suggested that the tribe consider voting out Cochran for being physically weak. Jim was suspicious about Ozzy's reasons for keeping Semhar in the game and he was worried he might try to form an alliance with the girls early on. Jim told Cochran about Ozzy's suggestion and Cochran became emotional and paranoid that he would be voted out. 
At Tribal Council, the tribe debated if Semhar or Cochran was to remain in the tribe. When the vote came, the tribe decided against Semhar and she became the first resident of Redemption Island, by a vote of 8–1.
Back to Season Overview