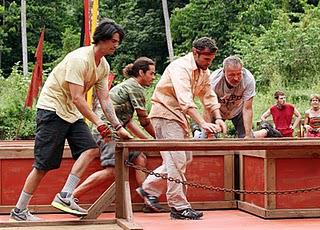 Original Air Date: 21 September 2011
Reward Challenge Winner: Savaii
Immunity Challenge Winner: Savaii
Voted Out at Tribal Council: Christine (4-3-1-1)
Recap: On Redemption Island, Semhar tries to comfort herself over feeling abandoned by her tribe by reciting poetry. 
At Upolu, even though Coach already had an alliance, he bonds with Edna and assures her he wants her around. With lying in keeping his relation to Russell Hantz eating at him, Brandon reveals his secret to Coach and asks him to keep it to himself, giving his word that he will not betray him the same way his uncle Russel did. 
Christine finds the clue to the Hidden Immunity Idol in the same place where Stacey missed in a day or two before. Brandon continues to feel uncomfortable around Mikayla as she reminds him of Parvati Shallow and plans to vote her out as soon as possible. 
At Savaii, Ozzy uses his past experience playing the game to look for things out of place and discovers the Hidden Immunity Idol in a tree. Jim puts forth a "3 plus 2" alliance plan of himself, Keith, and Ozzy as a core alliance, with Elyse and Whitney as the "plus 2", not knowing that Ozzy and Keith already had an alliance. 
At the combined Reward/Immunity Challenge, the women of Upolu take an early lead in the Maypole part, but the men work slowly at the crate puzzle, allowing Savaii to make a huge comeback and win the challenge. 
Back at camp, Coach is concerned about Christine having a Hidden Immunity Idol and suggests to his alliance that they flush the Idol by splitting their vote between Christine and Stacey. 
Brandon lobbies everybody to vote out Mikayla, but the rest of the tribe thinks Mikayla is an asset in challenges and has to be kept around until the merge. 
Brandon lies to Coach, telling him that Christine and Stacey would vote for Mikayla. At Tribal Council, Coach confronts Christine and Stacey about their votes, but they deny ever having said that they would vote for Mikayla. When asked whom Coach had heard that from, he refuses to give out the source, but Brandon confessed to telling the two women to vote against Mikayla. 
As the votes are read, Christine is revealed to be the second person sent to Redemption Island, by a vote of 4–3–1–1.
Survivor: South Pacific Recap: I Need Redemption
Back to Season Overview