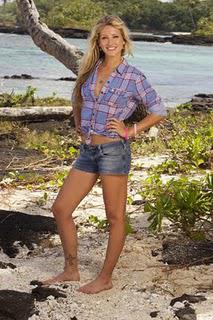 Name: Whitney Duncan
Age: 27
Tribe designation: Savaii
Current residence: Nashville, Tennessee
Occupation: Country Music Singer
Personal claim to fame: My first record "Right Road Now" was released on Wa­rner Brothers in 2010. It's definitely my biggest achievement to date.
Inspiration in life: Jesus and Elvis because they both inspired me in such different ways. Elvis is the reas­on I started singing and performing. And, Jesus saved me.
Hobbies: Reading, hiking and kayaking.
Pet peeves: Slow drivers and people who talk down to me.
3 words to describe you: Outgoing, happy and honest.
Survivor contestant you are most like: Stephenie from Palau because she's smart and a bad-ass.
Reason for being on Survivor: It's the adventure of a lifetime, and I want to prove to everyone and myself that I can do whatever I set my mind to. Plus, I could use a million dollars.
Why you think you'll "survive" Survivor: I'm smart, physically fit and not afraid of anything.
Why you think you will be the sole Survivor: I'm extremely competitive and love to win. People normally like me, and I feel like I can read them well.
Whitney Duncan is like the love child of Chase Rice from Nicaragua and Matt Elrod from Redemption Island. She's a country artist with little to no success who will probably become a little bit more famous after this season of Survivor, and she seems to be a very religious girl, who will definitely piss me off if she starts playing that card. 
She has the background that will allow her to do well at camp and looks athletic enough to help her tribe in challenges. She also seems outgoing, but I'm not sure if that also means likable. 
She says she won't play the celebrity card, but really now, why would she? She's probably known in Tennessee, but I doubt any of the other castaways know who she is. There have been bigger celebrities on Survivor that managed to go by without making that known.
My take: nay.
Comparing herself to the goddess that is Stephanie LaGrossa is enough to make me hate her right from the start. People should stop comparing themselves to past survivors who really had game when it's clear they are nothing like them. Besides Dawn, Savaii only has annoying little women whom I don't see playing anything remotely similar to a winning game. I hope she goes out quickly, though I have the feeling she will annoy us for quite a while.