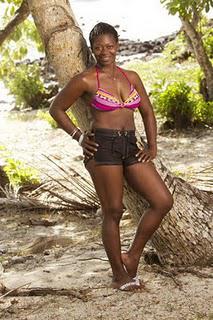 Name: Stacey Powell
Age: 44
Tribe designation: Upolu
Current residence: Grand Prairie, Texas
Occupation: Mortician
Personal claim to fame: Going to school and being a single parent. None of my children were ever in trouble with the law.
Inspiration in life: Martin Luther King, Jr. He wanted equality for all people.
Hobbies: Reading, outdoor grilling and dancing.
Pet peeves: Gum-popping.
3 words to describe you: Determined, fun and versatile.
Survivor contestant you are most like: Vecepia Towery from Season 4. At Day 38, when Vecepia and Neleh were talking, she said to Neleh, "And Christ said while he was hanging on the cross, 'It is finished,' it is almost done."
Reason for being on Survivor: To challenge myself and to bring the money home.
Why you think you'll "survive" Survivor: I'm a team player with leadership qualities. I'm a time-manager and a go-getter.
Why you think you will be the sole Survivor: I'm not a quitter. When it comes down to me and my family, that gives me the drive to keep going on.
It's enough for me to hear someone compare herself to Vecepia for me to instantly hate that person. I don't like religious fanatics, religion is something very private to each person and doesn't have its place on Survivor. Plus, this woman said she's not a fan of the show and only watched Redemption Island, so how exactly does she know Vecepia?
Other than not being a fan of Survivor, she didn't apply as the majority of people do, she went to an audition and was probably cast because she fills a demographic.
Though she compares herself to Vecepia, she sounds more like Joanna from The Amazon to me, and if she acts on camp like she does during the interviews, then she'll be out really quick.
She might form an alliance with Rick on getting Coach out early on, though I really hope Rick knows better. She seems physically strong and pretty vocal, she might emerge as an early wannabe leader in a tribe full of people who could take on leadership roles. I'm inclined to think she will not make it to the merge if she keeps up the attitude.
My take: Hell no!
She may just be the person I least like from this cast. I hope she gets booted early, as I cannot stand two consecutive seasons filled with religion crap.