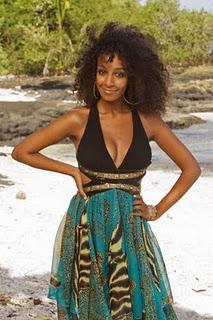 Name: Semhar Tadesse
Age: 24
Tribe designation: Savaii
Current residence: Los Angeles, California
Occupation: Spoken Word Artist
Personal claim to fame: My poetry on YouTube.
Inspiration in life: Oprah because she is inspirational and loving. She makes a positive contribution to so many lives. She is a successful business woman and a world wide teacher.
Hobbies: Writing/performing poetry, dancing and watching Oprah.
Pet peeves: Liars.
3 words to describe you: Silly, flirty and sensitive.
Survivor contestant you are most like: Fabio, because he was silly and underestimated.
Reason for being on Survivor: For the money, change and challenges.
Why you think you'll "survive" Survivor: I'm a people person. I can make friends with almost anyone. I would bring laughter, positivity and my knowledge and experiences from living in Eritrea.
Why you think you will be the sole Survivor: I think I'll win Survivor because I'm the girl that no one would expect to. I'm slick and sweet.
I see her like a very shallow silly girl who makes a great first boot. The only way she makes it past the first tribal council Savaii goes to is if anyone else comes off as more annoying, which I doubt is possible. She's a flirt and will probably try that, and more of a diva than Elise. Those two could be this season's Ashley and Natalie, with the exception that Ashley actually had some physical strength and was great in challenges. I don't see Semhar helping her tribe in any way.
I don't doubt she's silly, like she says she is, mainly because in the EW interview she says she doesn't want to tell people she lived in Africa for a year because the others might see that as a threat, but later on Semhar admits she lived in a city and is not an outdoorsy person.
My take: no way!
She's the most annoying chick out there this season. Luckily Savaii has Dawn to save the female image, otherwise, between Elise, Semhar and Whitney, it would be Redemption Island all over again.