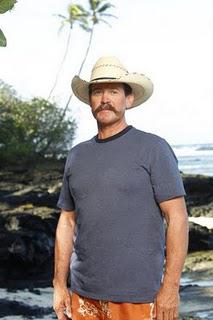 Name: Rick Nelson
Age: 51
Tribe designation: Upolu
Current residence: Aurora, Utah
Occupation: Rancher
Personal claim to fame: My family and my ranch.
Inspiration in life: My grandfather. He built a very large ranch with his own determination and sheer willpower.
Hobbies: Team sorting, hunting, riding and playing on my horse.
Pet peeves: Quitters and lazy people who don't keep their word.
3 words to describe you: Outgoing, strong-willed and self-motivated.
Survivor contestant you are most like: J.T. He played a great game and won. He is country, strong-willed, a great competitor, good to get along with, not a quitter and true to his word in the end. I'd like to think if you put 15 years on him, he would mirror me - except I'm better.
Reason for being on Survivor: It is a once-in-a-lifetime experience to prove that you can survive with next to nothing for 39 days and be one of 23 people in the world to be named "Sole Survivor". (And a million dollars would be nice).
Why you think you'll "survive" Survivor: I'm used to living out in the elements on a daily basis. I'm a hard worker. I can build a fire, shelter and I can hunt and fish. I'm easy to get along with, always have a positive attitude and a lifetime of little tricks to make life nicer while camping in the dirt.
Why you think you will be the sole Survivor: After applying 14 times, I am driven and very determined to win the game. I will stop at nothing!
Rick seems like the real deal. he's a Survivor fan and that's the first thing I loved about him. He applied 14 times and finally got the chance to play the game. According to him, he can fish, hunt and basically do camp stuff, so I'm betting he will be the one everyone will look up to when it comes to camp life. I hope he's not very weak physically, though life on a ranch definitely makes you athletic.
He compares himself with J.T. and if he's anything like him, he should go far. The only thing I'm worried about is his Coach hate (did the producers put these two together on purpose? It wouldn't be unthinkable). But since Coach is not Rob or Russell, I doubt people will just follow him instead of Rick. 
I actually loved the way he spoke about Coach, he's a lot of fun and you can see that he's an enthusiast of the game and doesn't like quitters.
My take: yey!
I have another reason to like him, besides what I've already said above: he looks a lot like my father. I hope he can get far in the game and not be cut off just because he's the older guy.