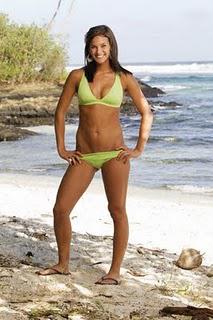 Name: Mikayla Wingle 
Age: 22
Tribe designation: Upolu
Current residence: Tampa, Florida
Occupation: Lingerie Football Player
Personal claim to fame: I was on the cover of Playboy February 2011 and met the hard working Hugh Hefner.
Inspiration in life: My mother is my inspiration. She is a strong, independent woman who always taught me to reach for my goals in life. She raised my brother and me as a single mother and we never felt we were without anything we wanted. I can only hope to be half the mother she is.
Hobbies: I like going to Broadway plays, riding quads, camping and going to the beach. Growing up in Northern New Jersey gave me the love of being outdoors.
Pet peeves: Dishonest people, liars and people who think they are better than everyone else.
3 words to describe you: Outspoken, humorous and witty.
Survivor contestant you are most like: Jane. She stands up for herself and never lets her morals go. She is a hard worker and loves her dogs just like I love my pup, Diesel.
Reason for being on Survivor: It is my mom's favorite show and we have been watching since I was 10 years old. She told me that if I ever got the opportunity to be on it we would jump at the chance!
Why you think you'll "survive" Survivor: I feel that I am a strong independent woman and I know I will strive to prevail. Quitters never win and winners never quit.
Why you think you will be the sole Survivor: Playing sports all my life, I feel I am a competitor at heart. I am very athletic and am very likeable. I plan to use these qualities to get me to the end!
Mikayla is probably the strongest female this season - physically. Her muscles are visible as though she says she is going to try to hide her physicality from the other players as long as possible, she will have a hard time doing that. She's a linebacker in a female football league and that alone tells us that she's going to be a huge physical threat. From this point of view, she is a lot like Stephenie (though incredibly she's one of the few females this season who doesn't say she's like Steph).
She looks like a lot of fun, but she also talks a great deal, which might annoy some people. She speaks a lot about forming alliances right from the beginning, but I'm wondering if she actually has what it takes to do that.
Would she have been on Savaii, I'm pretty sure she would have formed an early alliance with Ozzy, but on Upolu I could see her maybe getting along with Albert.
My take: yey!
I usually don't like women on Survivor, but Mikayla might just make my very short list that is currently led by Stephenie LaGrossa. They are a lot alike when it comes to the athletic part. I'm not sure she has what it takes to make it all the way, but I think she'll make it to the merge easily.