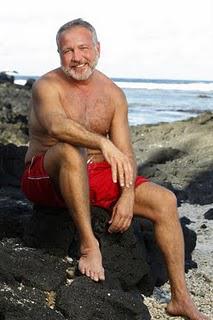 Name: Mark Caruso
Age: 48
Tribe designation: Savaii
Current residence: Forest Hills, N.Y.­
Occupation: Retired NYPD Detective
Personal claim to fame: I was a NYCPD Morgue Detective for 20 years and I retired with honors from the mayor and police commissioner.
Inspiration in life: My deceased Aunt Mary, who brought us to her home, raised us and gave us a great life.
Hobbies: Gym and all that goes with it, spending as much time in the sun as I can and meeting new people/making new friends.
Pet peeves: Know-it-alls and people with "I am better than you" attitudes.
3 words to describe you: Funny, sarcastic and lovable.
Survivor contestant you are most like: I haven't seen anyone like me.
Reason for being on Survivor: I want to experience being stripped of life's luxuries that we all take for granted and survive with the bare essentials.
Why you think you'll "survive" Survivor: I am attentive and caring and have listening skills that can be supportive to my team and others. I love to work hard and have proven throughout my life that I will be a leader.
Why you think you will be the sole Survivor: People tend to like me because I am an honest person even though I am sarcastic and an "in your face" man. I am considered a real person heart, mind and soul.
My initial thought was Richard Hatch - a 40-something unfit openly gay man. But that was a wrong assessment. Mark is a very fun and open guy, who should make himself likable right from the start. His life experience (retired policeman and registered nurse) should make him an interesting character who is capable of dealing with adversity.
He won't be a physical threat in challenges and that might be a problem if Savaii loses immunity because of him. His daddy act might also alienate people if he comes off too strong in the beginning.
My take: yey!
He's a guy I could root for. He seems to be a lot of fun and I like to watch fun people. I'd like to see him in an alliance with Ozzy, that would be interesting to watch.