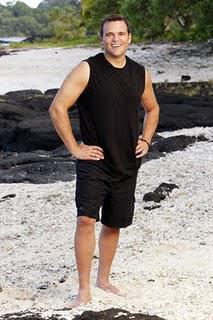 Name: Jim Rice
Age: 35
Tribe Designation: Savaii
Current Residence: Denver, Colorado
Occupation: Medical Marijuana Dispenser
Personal Claim to Fame: I've worked on Wall Street, won over 40 poker tournaments, started several successful businesses and earned my MBA at a top five school from the University of Michigan.
Inspiration in Life: My dad. The guy rocks and is responsible for who I am.
Hobbies: Playing guitar, playing poker and anything outdoors.
Pet Peeves: Close-mindedness and disingenuous people.
3 Words to Describe You: Ambitious, magnanimous and competitive.
Survivor Contestant You Are Most Like: Ethan. The dude dominated so much and was such a good guy that they practically gave him the one million.
Reason for being on Survivor: Life experience and excitement.
Why you think you'll "survive" Survivor: I am the most unique person to ever apply!
Why you think you will be the sole Survivor: No one with my combination of character, intelligence, cunning and athleticism has ever been on Survivor.
Jim has done a lot of different things in his life, that most certainly gave him a unique view on life. I don't doubt he's good at strategy, but on the other hand we've had another poker player in the past - Jean-Robert from China - and he only made it half-way through and managed to annoy a lot of people.
At this point, after seeing the interviews, I don't give him much of a shot to win either. He's cocky and doesn't come off as trustworthy. I'm not sure if he's athletic, but that remains to be seen. Despite him saying he will fly under the radar, I have a feeling that he will come off too strong and get voted out before the merge or shortly after.
My take: nay.
Though I wouldn't mind knowing him in real life, he's not the kind of guy I root for in Survivor. I like my guys athletic and sociable but not shady. Also, him comparing himself to Ethan is just wrong, he's not even close to Ethan's athleticism and I really doubt he can be even remotely likable.