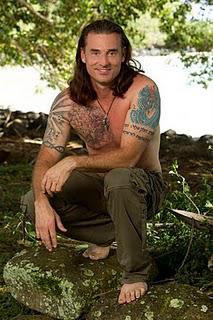 Name: Benjamin "Coach" Wade 
Age: 39
Tribe designation: Upolu
Current Residence: Susanville, California
Previous Seasons: Survivor: Tocantins and Survivor: Heroes Vs. Villains
Benjamin Wade, more commonly known as "Coach," is returning to Survivor for a third try. "The reception for me, when I step on that beach and am chosen to be on a tribe, I'm just going to kill 'em with kindness." He still owns his eclectic persona that viewers love from previous seasons, but the symphony conductor, men's soccer coach and pastor promises that, "Coach 3.0 is going to be different than any time you've seen him."
Coach believes that it is his experience and his leadership that make him an asset to his tribe, but he's reevaluating his strategy this time around. "I've got to come out here and I've got to be confident but not arrogant, strong but not intimidating, I've got to be humble but not weak, I've got to be honorable but not self righteous."
What does he think of Ozzy, his competition? "He is a great warrior in challenges, he's great at survival, he's going to be a tough competitor on the other tribe."
The first time around, I thought he was a douche, but at least an entertaining douche. He made it pretty far is Tocantins (5ht place), despite his Dragonslayer act and his crazy stories. In Heroes vs. Villains, he wasn't as lucky, though he made it to the jury. He wanted to quit and Tyson had to calm him down.
I didn't particularly like him before, but at least he was original. He's an enthusiast of the game and I always like that. Unfortunately, he'
s never been much of a physical or strategic player before. He's not the easiest person to get along with, or, better said, not the easiest to be accepted in a group. I think he'll have a very hard time this season, as he's in a tribe with a person who admitted he's the last player he wants to see return - Rick - and with someone who said that the returnee, no matter who that is, must go fast - Stacey. He needs to show that he can contribute to his tribe, has to take his previous experience and make himself indispensable at camp, otherwise he'll be voted out in the first couple of tribal councils. He also needs to tone down the crazy stories at the beginning.
My take: yey!
While a lot of people hate the fact that Survivor is bringing back experienced castaways to play against newbies, I'm excited about that. Of course, as long as these returnees are interesting enough and are not Russell Hantz. I loved Sheph and Bobby Jon in Guatemala, I loved Rob last season and I'm psyched to see one of my all-time favorite players, Ozzy, back now.
As for Coach, I liked his interview and if he decides to really play the game this time, I'm excited to see him back.