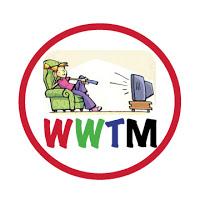 THE ANSWER TO WEDNESDAY'S TRIVIA QUESTION: Dr. Johnny Fever, Les Nessman and Herb were all on WKRP in Cincinnati. 
FIRST FIVES: Mike O'Dea, Jo Engel, Monica Caraffa, Karen Heniger & Elke Raskob  HONORABLE MENTION: Brett Blattman
THE NUMBERS 
Tuesdays Broadcast Top 5 The Voice-NBC 2.7/12.9 Victoria's Secret Fashion Show-CBS 2.3/6.5 Chicago Med-NBC 2.1/9.6 Chicago Fire-NBC 2.0/9.0 NCIS-CBS 1.4/11.3 Tuesday's Cable Top 5
Big Bang Theory-TBS .9/2.6
Curse of Oak Island-History .9/3.2
American Dad-Adult Swim .9/1.7
Moonshiners-Discovery .8/2.1
Real Housewives of Beverly Hills-Bravo .7/1.7
Tuesday's Twitter Top 5 Primetime Ratings  The Voice - NBC 1,445,000 Tweets Victoria's Secret Fashion Show-CBS 918,000 Tweets Scream Queens-FOX 185,000 Tweets Tonight Show-NBC 77,000 Tweets Marvel's Agents of S.H.I.E.L.D. - ABC 52,000 Tweets THE SHOWS    
Survivor
What is wrong with the Jeff and the Survivor game people? T

hat

boat challenge could have

killed someone

. Everyone was falling and smashing their weary bodies all over the place and Tasha nearly drowned

!

I've never seen the divers get called in before. Pretty

sure that was a first.

We're down to the wire now and everyone's really looking emaciated, especially Spencer. Glad Keith invited him to the reward at the temple so he could get some food in his skeletal body. Can you believe that Keith forgot Tasha's name

?

I'm sure it was just exhaustion but not good this late in the game to forget a tribemate

's name

. I

'

m glad Abi's out. I personally can't believe that Kimmy is still in this game. Has she done ANYTHING at all so far this season? Nada! She's played one of the most under-the-radar games I've ever seen. Next week's the finale and it looks like it's going to be very interesting. 
Goldbergs
SUPER

HANUKKAH

that's what Beverly Goldberg wanted once she saw how awesome Christmas at the Kremps was. Only Bev could try to sell in

Hanukkah

Harry, Hanukkah Bushes and turn candy canes into Peppermint "J's" Of course who better to go up against Bev but her own father who was pissed off that Bev abandoned all of her family traditions. I personally didn't love that the

show

made

Hanukkah

look so bad and Christmas look SO good but if you get a toothbrush, zit cream and underwear for

Hanukkah

instead of a guitar, and an Eagles jersey I could see how

Hanukkah

could get such a bad rap. Of course The Kremps Christmas didn't tur

n out

that great. You know the deal, the grass is always greener sort of thing. Best part of this episode was the dual cassette deck, Neil Diamond's rendition of "Santa Clause is Coming to Town" and Barry and Adam's subtitled conversation while being stuck by their tongues to a tether ball pole. Not the strongest Goldberg episode ever.  
Black-ish
At first, I did like the too-much-stuff-for Christmas

idea

, but between The Goldberg's bashing Hanukkah and then Black-ish bashing Christmas it was a huge

D

ebbie owner across the board. Who wants a holiday bashingtheme for the night

even if it's true.

  I probably shouldn't have watched both episodes in a row. I'm thinking that Charlie REALLY is gone from the office and the show. He wasn't at the office table this week and Wanda Sykes was. I really don't need Rainbow

AND

Wanda in the same show every week. They both bug me way too much. Do we think that Churches Fried Chicken paid for that integration? Give them credit if they did, I wasn't sure if it was a positive or negative spin on the food. Everything bothered me about these two episodes. The Goldbergs went out for Chinese on Christmas, the Johnsons had fried chicken. I don't know maybe it was me. Anyone else

feel this way? 
Nashville
I knew Caleb and Scarlett would break up and I am SO happy they did.

He was such a tool.

She belongs with Gunnar

and she knows it. 

I also knew that the guy Will was working with was gay. (not that there's anything wrong with it...gay y

ay!)

Totally happy that Marcus is out of the picture even though he totally screwed over Rayna and put Highway 65 out of business. Rayna had one headache after the next with that label. Every single artist she signed turned out to be a

train wreck

. Now that Deacon finally proposed she can spend the rest of the season planning their wedding. Good thing Luke Wheeler could cover the $40 mil tax bill after getting screwed over by his accountant or whoever it was that screwed him over. I'm glad he dumped his chick and that "brand," I didn't like

her or how many times every episode they said the word "brand."

Now he just needs to figure out a way to get Colt back. Glad Avery got it together, I sort of felt like he was losing his sh*t there for a minute. So I guess we need to wait and see if ABC renews this one in order to figure out of the wedding goes off without any issues, if Scarlett and Gunnar finally get together, if Juliette and Avery end up together and if Will can really find true love in country music. I wouldn't mind another season, but maybe just one more and call it a day. 
THE OTHER STUFF
-SAG AWARD Nominations were announced yesterday. 
DRAMA ENSEMBLE
Downton Abbey
Game of Thrones
HAS TO BE GAME OF THRONES! 
Homeland
House of Cards
Mad Men
DRAMA ACTRESS
Claire Danes/
Homeland
I really think she deserves to win!
Viola Davis/
How to Get Away With Murder
Julianna Margulies/
The Good Wife
Maggie Smith/
Downton Abbey
Robin Wright/
House of Cards
DRAMA ACTOR
Peter Dinklage/
Game of Thrones
You guys know I LOVE HIM! 
Jon Hamm/
Mad Men
Rami Malek/
Mr. Robot
Bob Odenkirk/
Better Call Saul
Kevin Spacey/
House of Cards
COMEDY ENSEMBLE
The Big Bang Theory
Key & PeeleModern Family
Orange Is the New Black
NOT A COMEDY 
Transparent
NOT A COMEDY 
Veep
COMEDY ACTRESS
Uzo Aduba/
OITNB
Edie Falco/
Nurse Jackie
Ellie Kemper/
The Unbreakable Kimmy Schmidt
Julia Louis-Dreyfus/
Veep
Amy Poehler/
Parks and Recreation
I just want her to win
COMEDY ACTOR
Ty Burrell/
Modern Family
Louis CK/
Louie 
William H. Macy/
Shameless
Jim Parsons/
The Big Bang Theory
Jeffrey Tambor/
Transparent
NOT A COMEDIC PERFORMANCE
-Homeland AND The Affair both renewed for another season by Showtime. Ugh, I know so many of you guys love The Affair. I just hated it so much. Can't believe they're getting a 3rd season! 
-Matt Dillon will be back for Season 2 of the very bizarre Wayward Pines. -Who's busier these days, Andy Cohen or Ryan Seacrest? I think it's Andy. In addition to all the Real Housewives shows, Watch What Happens Live, his Sirius channel, the books, and the Anderson Cooper tour, now, he's taking over New Years Eve too. He'll host a Live edition of Hollywood Game night at 10pm on NBC. I'll be home playing along! 
-TiVo released some good Millenial info yesterday and if there's one thing everyone is clamoring for it's more information about these Millenials. OMG I can't take it. We talk about them, type about them, read about them

, we do everything for these people! Okay rant over. Here's what they said:
Millenials consume more TV shows than any other type

of video content

73% of Mill

enials watch Network and Cable TV shows regularly. 

For reference, my generation...Generation X...watches 75% 

61% of Millenials regularly access streaming content. Gen X is a

t 51% on this one.

79% are not seriously considering of completely cutting th

e cord

   
Thursday's Trivia Question:  The clock is ticking

on the ABC Family rebrand. What is the networks new name?
WWTM-Kristy
Like me on Facebook at Watching Way Too Much
Follow me on Twitter at [email protected]
http://watchingwaytoomuch.com
[email protected]