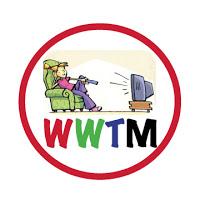 The answer to Wednesday's Trivia Question: Mike & Carol=The Brady Bunch, Buster & Lucille=Arrested Development, Tara & Willow=Buffy the Vampire Slayer
FIRST FIVES:Ed Ziskind, Neil Strahl, Tara Dowling, Monica Caraffa, & Lori DeCillis
Honorable Mention: MY MOM! Barbara Rosalsky!!!
Tuesdays Broadcast Top 5
American Idol-FOX 3.4/11.4
NCIS-CBS 3.3/20.3
NCIS LA-CBS 2.8/15.9
Golden Boy-CBS 1.6/9.2
Celebrity Wife Swap-ABC 1.5/4.0
Tuesday's Broadcast Trendrr Top 5
American Idol-FOX 221,795
NCIS-CBS 221,795
Smash-NBC 43,329
NCIS LA-CBS 39,058
The Taste-ABC 35,863
Tuesday's Cable Top 5
NBA Basketball-TNT 1.6/3.3
The Big Bang Theory-TBS 1.4/3.4
Tosh.O-Comedy Central 1.2/1.9
Pretty Little Liars-ABC Family 1.2/2.5
Real Husbands of Hollywood-BET 1.0/1.8
Tuesday's Cable Trendrr Top 5
NBA Basketball-TNT 680,158
Pretty Little Liars-ABC Family 475,676
The Bad Girls Club-Oxygen 109,474
Piers Morgan-CNN 98,026
NBA Basketball-TNT 88,961
WWTM Last Night
ABC really needs to add some PR staff to support my Suburgatory mission. I can't do it alone. This show is so under the radar and so underrated. The word really needs to get out there.  Modern Family Shmodern Family. Suburgatory's better.  Sure it was given the great time slot, but still.  You rarely see anyone from the show anywhere. No Kelly & Michael, no Fallon or Kimmel, come on guys.  People really need to watch this one and keep it on the air.  This weeks episode was too funny.  Noah (who looks just like Joey from Full House) was having a bit of a mid life crisis and thought he was in love with Carmen the housekeeper.  Of course Noah's still married to the super horrible, Jill who wears way too much eyeshadow. Jill wrote a book for babies who can't read books. "You're Out Now What?" Classic.  Tessa bailed on Dallas to go intern for Jill but realized the huge mistake she made after she was given the assignment of writing an opus about Jill's book from Opus's point of view...Jill's son who can't speak or read. In order to help Noah forget about Carmen, George took him sap tapping, yes...sap tapping which is why he had a huge bucket of maple syrup at the dinner table.  I know this all sounds like too much but if the tap sapping didn't get you going, Dahlia's dry crying should have thrown you over the edge.  Again, Dahlia is the shows secret weapon and nobody knows who she is.  So let's review.  Opus from Opus, Tap Sapping and Dry Crying...set your Tivo's people.  I'm not kidding.
Survivor rules.  It just does.  I mean you really can't make this stuff up.  A giant marine who served not one, but two tours of duty in Iraq couldn't handle a few weeks on a deserted island with a bunch of people.  Shamar laid around camp and whined all day and made people serve him rice until boooo hooooo he hurt his eye and had to leave the game. I have to admit, I thought he was faking it.  I even thought that maybe he injured himself on purpose, just to get out of the game.  All I know is he's gone and I couldn't be happier.  Well maybe if he took the completely delusional whacko, Phillip, and his ridiculous Stealth R Us alliance (that's made up of everyone in the tribe) lunacy with him. For comic relief, all you needed to do was take one look at Cochran's sunburn lines and you're good to go. The only thing funnier than Cochran's sun sleeves,  was the arrival of Ta-Ta, a local "bushman" to the Favorites camp. (Yeah, I laughed like an 11 year old when Jeff said the word bushman...I won't deny that) Ta-Ta wore a very small piece of red cloth that barely covered his ta-ta's.  There were a few wardrobe malfunctions, but Ta-Ta just kept building and cooking.  In addition to the reward challenge, the Faves also won the immunity challenge...again. Reynold (No S) and Eddie pled their case, a strong one actually, and while Reynold did play his Idol, it didn't matter, it was Laura, the weakest tribe member, who was sent home.  One thing I need to know...is Sheri wearing eye make-up? It really does look like it doesn't it?
Yesterday over on Yahoo,  Ali Wentworth's mini show, The Daily Shot, she had on the (unverified) number one Tupperware sales person in North America.  Aunt Barbara is a drag queen who is SO busy that if you want him/her to throw a party for you there is a 6 month wait. I have to say, I haven't been to a Tupperware party in a REALLY long time, but the cheese grater thing he/she recommended kept me up all night. Check out the video and let me know if you feel the same need to order it. http://screen.yahoo.com/tupperware-top-salesperson-life-drag-000000604.html   News & Information
-Joey Lawrence and Charissa Thompson will be hosts for ABC's diving show, Splash. I hope that Joey decides to wear nothing but swim trunks in solidarity for the divers and to keep this blogger happy.  I didn't know who Charissa Thompson was, I needed to ask my 11 year old since he's and ESPN addict. 
- After 10 seasons of telling people What Not To Wear, TLC has cancelled the show.  I guess now everyone will start wearing things they shouldn't.  I've never seen an episode of this one and if you've ever met me, you'd know it.  LOL. 
-More NBC Late night rumors that I love hearing.  If you recall, the first rumor was that Jay's gonna leave and my FBFF, Jimmy Fallon is going to take his place.  Now the newest rumor is that Howard Stern is going to take Jimmy's place. I love this idea and to be honest, it does make sense if you think about it. Howard did AGT and proved to the world that he's not a crazed pervert and if you are a devoted listener like I am, you'd  know that Howard really doesn't want to renew his Sirius contract especially with the pending lawsuit he's currently dealing with.  Why is it that Howard's ALWAYS on vacation when these type of things happen? Inquiring minds need to know what's really going on.   
-

Time Warner and the Time Inc. magazine publishing division breaking up. Time Warner will focus on TV, film and the production biz and Time Inc. will go off on it's own.  The goal is for this to happyn by the end of the year.  Magazines just continue to get pummelled every which way.  I feel bad for Time even though I'm not a big reader of it. It's just sort of sad what's happening though.
Thursday's Trivia Question
: David & Maddie, Kimberly & Michael, and Tami & Eric name the shows
WWTM-Kristy
http://watchingwaytoomuch.com
[email protected]
[email protected]