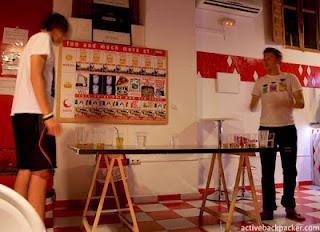 Today's Post is a guest post from Tom Summerfield of Active Backpacker.
Hostels are the quintessential lifeblood of every backpacker, it's the fail-safe, the place where you can guarantee a reasonably cheap night and a good social atmosphere when backpacking Europe or Asia. They are like the Sanctuary for the knights of old, a haven to rest and recuperate (and, ahem, party and be noisy).
However it's important to note that they are NOT hotels, but to me this is a massive bonus. Hotels often seem sterile, are people chatting about travel and life in the restaurant or at the bar? Nope. Can you swap your dog eared but well read novel for another? Nope. Can you play the free guitar and drink supermarket beer and sangria in the common room? Nope!
Four Hot Hostel Tips
If you're looking to save a few extra dollars, bring along your own travel sheet and microfiber towel - this will save you having to rent sheets and towels from the hostel (most of them charge a bit for this and that's quite normal).
It's easy to sort hostels by the cheapest price available, but that's not always the best way to go. Sometimes a great location and access to a kitchen can save you more than simply the cheapest bed that doesn't have either. Don't include price as your ONLY factor for choosing a Hostel.
If you're leaving later that afternoon or night, but not sleeping another night at the hostel, it's normally okay if you leave your bag with them for the day - just ask at the front reception.
If the hostel doesn't have any lockers, I normally sleep with my passport and bank card underneath my pillow. I tend to trust almost every other backpacker I meet, but why go through the incredible annoyance of having to organize a new passport from the embassy when you can take a simple precautionary step?
The Backpacker's Library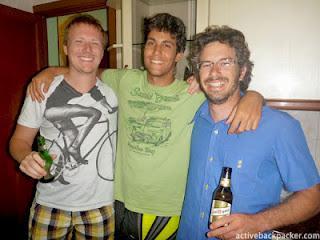 One reason to love hostels is what I like to call The Backpacker's Library. It's the book exchange shelf that's available in any good hostel and allows you to switch your finished novel with another one to keep you entertained on long bus or train journeys. These exchanges work off trust, so don't take more books than you leave behind!
One fun thing to do is to actually leave a message in the book for the next reader! Say hello or start a travel chain letter in the front or back of the book.
Cooking & Sharing
Look to cook in your hostel to stretch that budget as far as you can. Even better though is to rally up the other backpacker troops and organize a shared meal. This has the bonus of being able to buy more ingredients at a better price and cook up a healthier meal with more vitamins (yes, you can't live JUST off pasta and sauce).
Think easy and big one pot dishes like bolognese, risotto or stir-fries.
Socializing & Drinking
Hostels are the place for like-minded backpackers to meet each other, party and wax poetic. Going out for drinks, especially around Europe, is a quick-fire way to blow your budget out of the water, so what works better is to pre-drink in the common room (normally not a problem) then once you're nice and lubricated head out for the night but only buy one or two drinks max.
Organize a game which is an excellent ice breaker for a meet and greet in the common room. What about a drinking card game like King's Cup or a game of chess? Or even a spot of Beer Pong if you can manage it.
Easy to Love
I have a love for hostels that shall not be quenched by hotels or self service apartments, which whilst nice on occasion, will never replace the ambiance and atmosphere that exude from some of the fantastic hostels scattered throughout the world.
Today's Post was a guest post from Tom Summerfield of Active Backpacker.  Tom loves a good backpacking adventure, he especially enjoys Europe and South-East Asia. Currently based in The Netherlands (although not forever), he believes there is nothing better than Dutch cheese, Belgium beer and Thai food. He owns and runs Active Backpacker where he provides resource filled backpacking posts & personal stories from the road.   You can also find him on Twitter at @activebackpackr and on his blog's Facebook Fan Page.