Darkest before dawn, but a long night
How bad is this economy? Rather than get out of bed, it's decided to roll over and sleep on. It's too hard. Unemployment in the US is getting worse, not better. The European debt crisis lurches from one nation to another.
Countries like Australia and Canada that escaped the nastier side of the global meltdown are now struggling with shrinking consumer demand in two-speed economies. China might still be on a roll, but Beijing is trying to rein in excessive lending.
Most of this is unpredictable and out of our control. Is there anything we can be certain about? Take a look at this chart from economist, Bill McBride.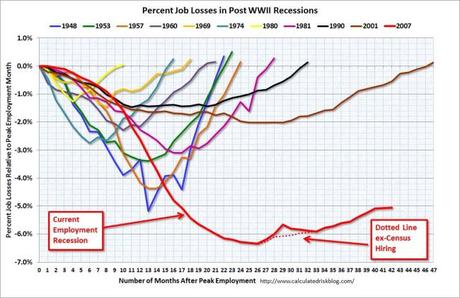 This shows the ten downturns in the US since World War II in terms of employment. Ignore the tags; just look at the red line. That's this recession up to now. Scary stuff. 
When will it end? No one knows for certain. I spent decades as an investment analyst, so I know I don't know. But there are elements of certainty if we look for them. Step back a minute and ask what this chart tells us? There are some things about recessions we can be certain about.
There are lots of them.
They all end. There are nine recoveries on the chart. Maybe even a nascent tenth.
In the US at least, there's one about every five or six years. If you are 35 now, expect another half a dozen before you retire. The business cycle is not dead. How you surf these waves will have a lot to do with your success.
The symmetry of each suggests the way we go into them is the way we come out of them. They can be sharp and short as in 1948. They can be shallow and long, like the one kicked of by the dot.bombs in 2001.
The current downturn is called The Great Recession. Although unemployment is only about half as bad as it was in the 1930s, this slump will give the Great Depression a run for its money in terms of time. This one is deep and long.
The good news? At month 42, we seem to be past halfway. A simple (and possibly too simple) extrapolation suggests another 18 months to go, meaning a full five years from start to finish. That takes us to the end of 2012. That might be the finish, but don't forget that recovery starts sooner.
What's the surfing strategy?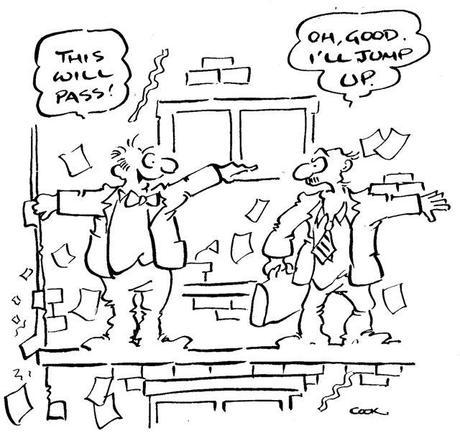 It's about the things we do have control over. If you have survived this far, you have probably have cash flow. It might be tight, but you can stay afloat. Don't take the focus off working capital management yet. We've still got some time to go. But if you are here at the end, you'll have fewer competitors – for a while at least. Although cash flow is everything now, start examining, if not executing, the strategies that will help you rebuild margins and volume. Be ready.

Ditto for cost cutting. You can't afford to take your foot off the brake yet, but rebuild some optimism by assessing where and when you might start to invest in your business rather than keep it constrained. It might even give you some ideas about how to handle the present predicament.

It may be all about sales now – or the lack of them – but put some focus on maintaining customer relationships, not just transactions. Who will be with you all the way through?

The same goes for your people. They are scared too. If you have a core of great staff, build on their loyalty. Look for non-cash ways to reward them. Help them with their career development. Make them a key part of your recovery strategy.

Recoveries can build momentum quickly. It's a management challenge to survive the hard times, but so is being up before dawn.