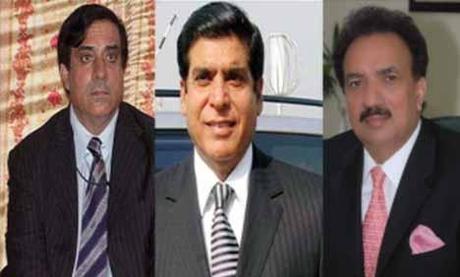 The Supreme Court of Pakistan on Thursday ordered NAB to file reference against Prime Minister Raja Pervez Ashraf, Interior Minister Rehman Malik and the former president of PPP-Punjab chapter Jahangir Badar within a week.
During the hearing of OGRA implementation case today, the two-member bench of apex court comprised of Justice Justice Khilji Arif and Jawad S Khawaja ordered the NAB to file reference against those who are responsible Tauqeer Saqid's appointment and providing protection to him.
Director NAB told the court that Rehman Malik and Jahangir Badar allegedly helped Tauqeer Sadiq to flee the country after which the court directed the authorities to file reference against them and present a report by January 30.
Meanwhile, the hearing of the case was adjourned till Jan 31.