Mitt Romney's epic failure to mention the sacrifice of our troops in his nomination speech at the Republican National Convention two weeks ago reveals a growing hypocrisy between the Republican party and how they perceive our military. Contrary to what every Republican will tell you, Obama has been a great Commander in Chief, and his actions reflect a true care and respect for our troops as human Americans and not as pieces of military hardware.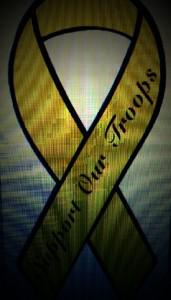 Republicans really, really, REALLY need to check what the word "support" means
First, Republican notions that Obama wants to eliminate the defense department is nothing more than desperate fear-mongering. If anything, Obama is working to strengthen our nation's defense against the real threats of today. His reorientation towards the Pacific is in response to the rapid military rise of China. His use of drones — while not without moral controversy — has enabled the coalition troops on the ground in Afghanistan to inflict greater damage to rebel groups while staying further out of harm's way. His support of coalition forces to topple Qaddafi in Libya is an example of how America should use its military advantage.
Yet Republicans attack Obama relentlessly for his lack of supporting the troops. But what sounds more like support: keeping troops on the other side of the world to die in a desert with no value to America while they train transition forces who turn their guns on the American soldiers as soon as they've been trusted? Or, bringing our troops to our shores and bases where they can be close to their families while actually defending America, our borders, and our close allies? If you think that sending troops to die is supporting our troops, you have lost your mind.
America will always have a potent military to maintain a favorable world order. Obama's record shows that he knows how to use it. Romney's complete lack of experience in foreign affairs, his multiple gaffes overseas, his disregard for the troops as nothing more than expendable assets, combined with the comparison he made of his sons campaigning for him in 2008 to military service, proves that he might be one of the last people that we would want to call Commander in Chief.