Coming to a City Near You!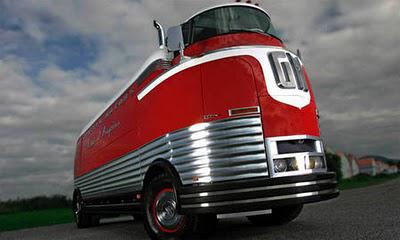 Don't you wish all tour buses were this groovy and train-like?
Concept bus © 2009 General Motors Inc.

Superconductor is going on the road in the next week, with help from MegaBus, Greyhound, and our (unofficial, as in they don't know about it) sponsor 5 Hour Energy. I'm going to be seeing performances in Philadelphia, (Carmen on Sunday Oct. 2) Boston (Boston Symphony Orchestra on Oct. 6) and Cleveland, with two performances from the Cleveland Orchestra under Franz Welser-Möst. This will be my first chance to visit historic Severance Hall, and I'll be there on Oct. 8 and 9.
You'll still be able to count on this blog for the best coverage of the New York classical and opera scene, with regular reviews of concerts at the New York Philharmonic and Carnegie Hall, and opera performances at the Metropolitan Opera (Il Barbiere di Siviglia, Anna Bolena) at the Met. October should be an exciting month.
In the meantime, please consult our Short List (that's the funky Hunt for Red October graphic to the left), our comprehensive 2011 Opera Previews, and our guides to the season at Carnegie Hall and the New York Philharmonic. Be sure to check back often for frequent updates, both from home and on the road.