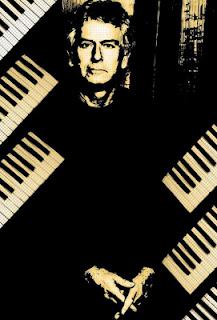 He knows what he likes: Tony Banks.
Photo alteration by Captured Epoch. Source: Deviant Art.
Keyboard player Tony Banks explores writing classical music.
Over the 40+ year career of the band Genesis, members of the British progressive rock group have crossed over into other endeavors with great success. Former singer Peter Gabriel is a rock icon, who does much to popularize world music. Phil Collins plays big-band jazz and, (like Mr. Gabriel) enjoyed a chart-topping solo career. Recently, keyboardist Tony Banks, a life-long (and founding) member of the group, has successfully launched his career as a composer of classical music.
"In Genesis, in the early days we played with form a lot more," he says in a telephone interview with
Superconductor. 
"In the later years we were writing more conventionally in terms of how the songs were structured."
Mr. Banks has a new CD out.
Six Pieces for Orchestra
 is his second venture into the classical stratosphere, a collection of orchestral instrumentals and "songs without words."  He adds, "I wanted to throw all structure out the window."
The six tracks on the new disc have a symphonic sweep, and are written for forces of up to 70 musicians. (Mr. Banks did some of the orchestrations himself, and the larger ones with conductor and arranger Paul Englishby.) On pieces like "Siren", "Wild Pilgrimage" (inspired by a prototypical graphic novel by American illustrator Lynd Ward) and the closing "Gold" the trademark sound of Mr. Banks is clear: shifting, sometimes eerie chords that wash over the listener and a "clean" sense of melodic line predominate. This is also music with bite, as indicated by the brass climax on "Wild Pilgrimage."
"The thing about an orchestra is that, what sometimes sounds pretty weird on the piano when you're fiddling about--when you do an orchestra it sounds more natural. "A key change that might be sort of abrupt on a piano or played by a small band sounds quite natural with an orchestra." 
He explains how early Genesis pieces like "Firth of Fifth" (from the 1975 classic
Selling England by the Pound
)
were the result of patching pieces together. "At the time, I had these three pieces," he said. "One was the piano solo, one was the flute melody and one was the rest of the song. Steve (Hackett) said 'Let me have a go,' and I said 'OK' and made the flute melody big and pompous. He played the melody on the guitar and it sounded lovely, and that developed the whole song."
The keyboardist used a similar approach in later Genesis days, with songs like the 1993 release "No Son of Mine." "I would improvise a sample," he says. "The whole chord sequences would come from improvising, along with some of the twists and turns it took. The timings on the chords were sort of unusual." 
"The other two (Genesis band-mates Mike Rutherford and Phil Collins) said: 'Don't change it. Let's keep it just like that.' We wrote the melody on top of that. Not everything is sixteen bars of this and eight bars of that." He adds, "One of my main contributions to Genesis is to try to stop doing verse-chorus-verse-chorus-middle eight-verse-chorus. I always wanted to try something different rather than repeating."
"Now I'm working on my own, and you develop (ideas) on your own," he says. "You do a bit of this a bit of that." He explains that he improvises on the piano and records it on the computer. "Sometimes I get a whole section like a minute and a half that really works, with a certain kind of character. I'll try to use that 'as-is.'"
"What I wanted to do this time was to try to get more time with the orchestra before I actually committed to tape. That was the real problem last time: you get to the studio, the orchestra is there and it's ready to do it. The clock's on, the money's ticking away and you've got about an hour, but you're still correcting mistakes on the scores. This time, I wanted to get all of that out of the way to correct any errors on the scores. 
"When it came time to do the actual pieces, there was time to worry about tempos, and feel and all the rest of it--all the things I couldn't really focus on when I was doing the first album." He adds: "I feel like I've realized to a much greater degree what I was aiming for." 
With a song catalog that includes pieces like "Harold the Barrel" and "Wot Gorilla?" Mr. Banks stills find room for humor in his music. "You do obviously have musical jokes in there--it's fun to write them," he says. "We've all had our moments amongst the group. In Genesis, we have weighty pieces where we take ourselves seriously. At other times, we don't. And sometimes people are finding jokes in my music where I didn't even put them--it's less effort!"
Listen to a Classic FM broadcast of
Wild Pilgrimage
by Tony Banks.