Mozart's final opera continues to thrill audiences and befuddle theater directors.
by
Paul J. Pelkonen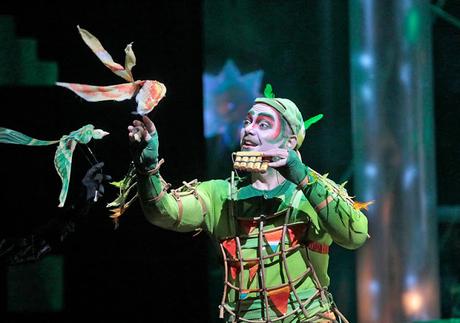 Christopher Maltman as Papageno in the Metropolitan Opera production of Die Zauberflöte.
Photo by Ken Howard © 2016 The Metropolitan Opera.
The first question one should ask when staging or attending a performance of
Die Zauberflöte
is this: Is Mozart's final opera a coded Masonic message, a serious opera, or a knockabout comedy meant for the audience of an 18th century music hall?
The answer is, yes, it's all three.
The Magic Flute
(as it is known in English, is a unique work. It is a happy marriage of Mozart's music, the mystic beliefs of the Masonic lodge that claimed both the composer and librettist Emmanuel Schickaneder as members, and a serious German opera that also happens to contain some of the finest folk-like songs in Mozart's catalog.
Mozart met Schickaneder in Vienna in 1780, and joined the Masonic Lodge in that city in 1784. He was convinced by the impresario to write a work for the Theater an den Wien, combining fairy tale elements, Masonic symbols (the use of the number three and the trials faced by Tamino and Pamina are just two examples) and German music hall entertainment. That last meant a juicy part for Schickaneder himself: the bird-catcher Papageno.
Die Zauberflöte
is an extremely challenging opera to stage in a convincing manner, as attested by the many productions that (in some way or another) fall flat. The disparate plot elements (Tamino's quest for wisdom, the struggle between the forces of light and darkness, and Papageno's determination to acquire birds, wine,
wurst
and wife (in that order)) are a difficult mix. Sometimes the most successful productions of
Flute
are the ones that display little visual adornment, such as the Zurich staging that moved the action to an insane asylum. http://super-conductor.blogspot.com/2008/02/dvd-review-cuckoo-cocoon-zurich.html
Complicating matters is the nature of the opera itself.
Die Zauberflöte
is a
singspiel
, an 18th century German form that consists of sung numbers connected by spoken dialog. In America, most opera companies will rely on an English translation, cutting the dialog to move the show along faster. This is a huge mistake, as Schickaneder's libretto has many small plot points that make show more coherent. Cut it at your peril.
Recording Recommendations:
There are over
forty
recordings of
Die Zauberflöte
on the market. The ones we'll discuss here are all sung in the original German. One is without spoken dialog. Three have abridged versions of the spoken dialogue, and one (the René Jacobs recording) contains (almost) the whole work including almost all the original dialog as it was heard in 1791.
Here are five
Flutes
worth adding to your shelf:
Philharmonia Orchestra cond. Otto Klemperer
(EMI/WBC, 19640)
Otto Klemperer was one of the deans of German conducting in the years after World War II. He took a serious, heavyweight approach to Mozart, letting the music breathe and swing with the power of later Romantic composers like Beethoven and Brahms. With no dialog between numbers, this recording is recommended if you just want to experience the music of this opera without the talking in between. An unbeatable cast too, with Nicolai Gedda, Walter Berry, Gundula Janowitz and Lucia Popp as the four leads and Gottlob Frick as an authoritative Sarastro.
Berlin Philharmonic cond. Karl Böhm
(Deutsche Grammophon 1964)
A longtime favorite, this recording should be heard for the four stellar leads that adorn it and Böhm's propulsive, no-frills approach to the score. The cast includes the legendary Fritz Wunderlich, a tenor who left too few recordings as he died young, paired with Dietrich Fischer-Dieskau as Papageno. The female leads are Evelyn Lear and Roberta Peters, whose Queen of the Night is a bit of an acquired taste. Franz Crass is a decent Sarastro.
Bavarian Radio Symphony Orchestra cond. Wolfgang Sawallisch
(EMI/WBC 1972)
This was a
good
idea: an idiomatic recording of the opera with an all-German cast and the great Wagner conductor Wolfgang Sawallisch proving his mettle in Mozart. Underrated and usually available at a bargain-basement price. And the cast includes Kurt Moll as Sarastro, a role the German bass would make a career out of in the years to come.
Drottingholm Court Theatre cond. Arnold Östman
(l'oiseau lyre/Decca 1992)
The early 1990s were a time when the big record companies were eager to record and re-record the music of Mozart, Haydn, Beethoven and their contemporaries on so-called "period" instruments, observing tempo choices and performance practices from the 18th century. This set, with a stellar cast of singers that includes Korean songbird Sumi Jo as a fiery Queen of the Night. This is the best "period" recording of the opera from that era.
Akademie für Alte Musik Berlin cond. René Jacobs
(harmonia mundi, 2009)
This mega-Flute (the same one mentioned above) features a good young cast and period instruments again, played with sober rectitude under Jacobs' leadership. The other attraction here is the opportunity to hear
Die Zauberflöte
in accordance with how Mozart actually heard it. Jacobs presents the opera with most of its stage dialog uncut, and should be followed in conjunction with a good copy of the libretto if you don't speak German. Happily, a translation is provided.
You made it this far, here's your bonus. Diana Damrau  singing
Der Hölle Rache
from Act II of
Die Zauberflöte.