If you're a polish collector (or hoarder) you probably have
hundreds
of bottles of polish. "Super Stacked" nail polish rack was designed to hold over 200+ large bottles of polish (such as OPI) or about 252 smaller bottles of polish (like Zoya). Not only does this rack hold a lot, but it maximizes the amount of wall-space it utilizes by featuring BeautyPopShop's unique double-row shelves! The elevated row in the back makes it easy to store extra polish, while leaving them visible from behind the front row. This polish rack is actually equivalent to double the BeautyPopShop "Queen B" nail polish rack.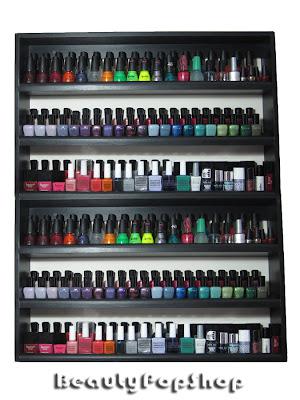 The dimensions of the "Super Stacked" polish rack are 26.5" L x 33.5" H x 3.5" W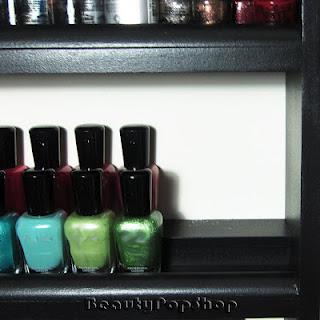 Here's a great view of the elevated rear row!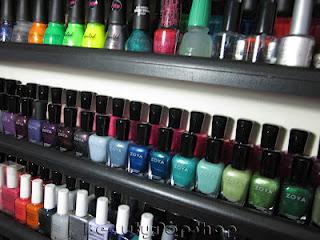 As you can see, even though there are 2 rows on each shelf, polishes are still visible in both rows. I love how neat they look like this!
Price
This polish rack retails for $150.
Where to Buy
You can purchase this polish rack, as well as many other uniquely crafted wooden polish racks, on BeautyPopShop's website HERE.  
BeautyPopShop is a unique online boutique that began with custom designed and built polish racks all created in-house. The wood used for all polish racks is custom-milled for BeautyPopShop by a local mill and is of the highest grade possible. The paint used to finish these racks is low-VOC washable paint. Polish racks are offered in black, white, naked (no finish so the customer can get creative and finish it themselves), and a custom color of the customer's choice. All BeautyPopShop nail polish designs are unique to BeautyPopShop and have been created, tested, and tweaked in-house.
BeautyPopShop caters to both individual polish collectors and professional polish companies, spas, and salons. Custom polish racks can be created upon request. If you'd like to have a custom polish rack built for you, contact BeautyPopShop directly at
[email protected]
with a description of how many bottles you would like it to hold and any other details you feel are important.
So what do you think? Could this rack help you organize your embarrassingly large polish collection?