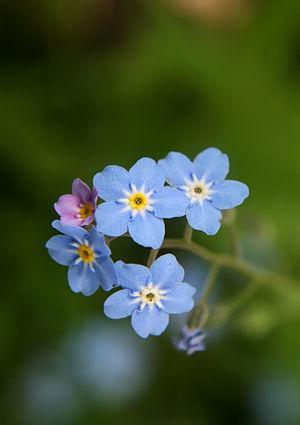 Image via Wikipedia
His hair was red, his eyes were blue and he cared.
He was manning the checkout counter when I strolled in and asked if there was anyone in the gardening department that could help me. He said, "I'll call for someone now." And I knew in my heart he would.
When he showed up beside me in the bedding plants I was surprised – "The other guy was in a meeting so I came myself." He explained – I teased him, "I don't know, should I trust a man with red hair?"
He was a bit startled then until he saw my smile and noted my red hair poking out from under the baseball cap I wore to keep the rain out of my eyes.
It was raining – pretty hard and we were standing outside – me in the ball cap, a raincoat and rubber boots and him in his store shirt with short sleeves and khaki pants.
He's the point of this story for several reasons:
First – his willingness to help me personally – he called to get me help and could have left it at that – instead when he realized no one else was coming he came so I wouldn't be disappointed and so his promise to me was kept.
Second – he put his personal comfort aside – he came right out into the rain, he stayed with me and put my needs first. I'm the one who kept pulling us under cover throughout the process because he was focused on my needs.
Third: He asked me questions, got excited about my project and not once did I feel he was "selling" me. He kept showing me options based on my budget – shared with me how to arrange things and showed me examples – I'm not well versed in planting things however he made me feel I could do this.
Lastly: He stayed with me to the end. I ended up buying so many plants and soil I began to worry it wouldn't fit in my Jeep Wrangler – as I expressed my concern he said, "I'll help you load it and what doesn't fit we'll keep here for you if you need to come back."
"Well then, let's go ahead and get it all right now." I heard myself say – Budget be dammed!
The flowers look great – really spiffed the place up and I'm happy – the red haired young man who helped me is named Steven and he is an excellent representative for Fred Meyer where he works – especially since he has some physical challenges – both a leg and an arm it looked like though I'm not certain, I was to impressed with his super service to pay that much attention.
The one negative to the story was the young woman who replaced him at the checkout counter and the manager who had to do an override for a mix up – both of them were bland, uninterested and it felt as if they were doing the least amount of work they could do – it dampened my spirits a bit until I looked at Steven, with his soaked shirt, big smile and vibrant red hair.
Steven is the sun on a raining day – May all of us –
Have Steven's that will serve us
Have Steven's that work for and with us
Have attitudes like Stevens
Remember – you create your day by the way you think! Make it magnificent!
Blessings, Shawna
www.PeopleSkills.us