I'm not sure if I have ever shared my hair care routine with you. I planned to in July, but as we all know, Glam July was a failure on my part. Super September isn't going quite as swell as I'd hoped, but I am still making more progress than I did in July, so that's good! But I should be talking about my hair ;)
I try to keep things simple because my hair doesn't need that much assistance. I do have dyed hair, but overall it isn't too dry. It can get tangled, but it's not horrible. My hair is medium to long, normal/fine, and straight with the occasional natural wave.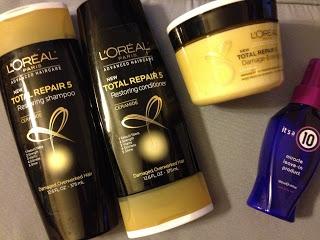 I tend to use products in the same line. As you can see, 3 of the 4 products in the picture above are from the L'Oreal Total Repair 5 line. The other is the It's a 10 Miracle Leave-In Product.
It's not technically healthy to wash your hair every day, but I do it anyway. My hair lasts a day and a half before it gets greasy, but for the sake of keeping a regular schedule, I go ahead and wash it daily. Once per week I will deep condition my ends because I am probably doing a lot of damage by washing daily. After I am done showering, I always spray the It's a 10 Miracle Leave-In product on my damp hair. Sometimes I blowdry it, but typically I just let it air dry. If my hair looks too crazy, I will straighten it. Otherwise I try not to use too much heat on it.
If you are interested in a detailed review of these products, please let me know in the comments!