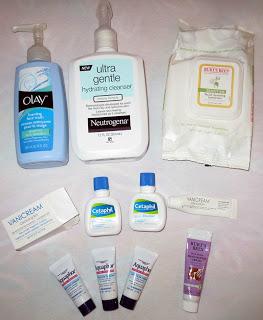 When I first became interested in beauty products, I tended to buy foundation and skin care products. I kept thinking there would be a magical way to wear makeup while I cleared my (at the time) mild acne. I never ended up finishing any skin care products. Luckily, that pattern is changing.
The majority of the products I finished were related to cleansing, so I am very happy about that.
Olay Foaming Face Wash (Sensitive Skin): I really like this cleanser. It is free of parabens and frangrance, but it does contain sulfates. I have another tube of this that I should be finishing soon.
Neutrogena Ultra Gentle Hydrating Cleanser: This reminded me of Cetaphil, but my skin actually felt clean, it is paraben free, fragrance free, and sulfate free. This cleanser was everything Cetaphil should have been. I'm not sure if I would repurchase it or not because I want to use products with fewer ingredients (and natural ingredients). But I do recommend this overall.
Burt's Bees Facial Cleansing Towelettes for Sensitive Skin: These actually dried up. I hated these wipes because they made my face and eyes sting. At one point a spot on my face swelled up slightly. Not good. 
Vanicream Cleansing Bar: I got this as a sample from the dermatologist and it was average.
Cetaphil Gentle Skin Cleanser: I thought I'd gotten away from this, but my dermatologist gave me two sample bottles of this cleanser. But luckily I managed to finish both quickly.
Vanicream Lite Lotion: I don't remember if I liked this or not.
Aquaphor: The miniature tubes I was given had expired 3 years ago. Eek!
Burt's Bees Shea Butter Hand Repair Cream: This hand cream smelled odd and eventually separated and the texture became a little off. I decided to call it expired and toss it out.
I've also finished a few bars of the Dove Beauty Bar (I'm beginning to like it!)
I am happy that I am slowly weeding out the clutter. My wallet is happy too! ;)