Well, I've procrastinated on this post long enough. I don't travel too often, but when I do, here is what I take with me!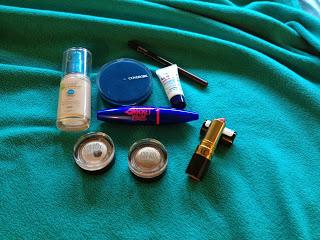 I try to keep it as simple as possible. I want products that can multitask for me. That is why I finally caved and bought the Covergirl Outlast 3-in-1 foundation. It functions as a primer, foundation, and concealer. I agree that it lasts a long time on my skin and also covers well. And it has a pump! I follow with the Covergirl Clean Oil Control Powder. I don't love this, but I had it in my purse and I thought it was long gone, but I still have quite a bit of powder left. I hope this is the next powder to make it to my empties list because I just want to finish it.
For my eyes I simply bring my favorite Maybelline Color Tattoos (Barely Beige and Bad to the Bronze). For eyeliner I typically pack the Revlon Colorstay Eyeliner in Blackberry, although a couple days after I took this picture, I did take this traveling with me and somehow the eyeliner broke off the base and dried up, so now I will be packing the same eyeliner in black with me. For my lashes I have been using Maybelline The Rocket Mascara (non-waterproof). It doesn't give a very natural look, but I personally love to have dramatic eyelashes.
I also use Aquaphor to keep my lips from feeling dry. The only problem is that Aquaphor does nothing to moisturize my lips... it just makes them feel temporarily moist. If I want to wear lipstick, then I usually pack the Revlon Super Lustrous Lipstick in Wink for Pink. I typically choose this over any other lip stick because the color itself works beautifully as a lipstick and a cream blush.
I apologize for taking so long to finish this post. One day I will finish a series on time. Keep watching for my September favorites!