This is my last empties post for a while. This could be good or bad, depending on how you feel about empties ;)
As always, this has fewer products than the other empties posts. And as always, I'm finishing the same things.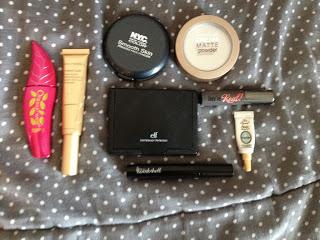 Physicians Formula Organic Wear Fake Out Mascara - I liked this, but it dried up within 3 weeks, so I might not buy it again because it is a little wasteful to be buying a mascara with so much packaging and so little product.
Jane Iredale Longest Lash Thickening and Lengthening Mascara - I was sent this to review and I really liked it. It dried up, but I liked it while I had it. It's expensive, but I would buy the full sized one in the future because it has good ingredients and it looks like a luxury product.
NYC Smooth Skin Pressed Powder - This is a translucent powder that is okay, but I don't think it is worth all of the raves I have heard. Then again, it is inexpensive.
Maybelline Dream Matte Powder - This is one of my favorite powders of all time. I probably would buy it again and again, but I didn't repurchase it as soon as I was done. The only complaint I have is that both of the ones I have had would crack after I hit pan and I end up wasting a lot of the last little bits.
ELF Complexion Perfection Powder - This was okay. Once I hit pan each color eventually fell out on its own. I'm not even sure if that made sense, but it cracked and didn't cooperate.
Be a Bombshell Liquid Eyeliner Pen - I don't like thick eyeliner, so I had problems with this. I probably used it two or three times before it dried up.
Benefit They're Real! - This mascara is great! I would definitely buy the full size in the future.
Too Faced Shadow Insurance Candlelight - I have the full sized tube and I love the color and quality of this primer. I would buy it again and again.
Not pictured: Maybelline Volum' Express Falsies Big Eyes Mascara - I really liked this, but I have great luck with most Maybelline products.
What makeup have you finished recently?