Art&Design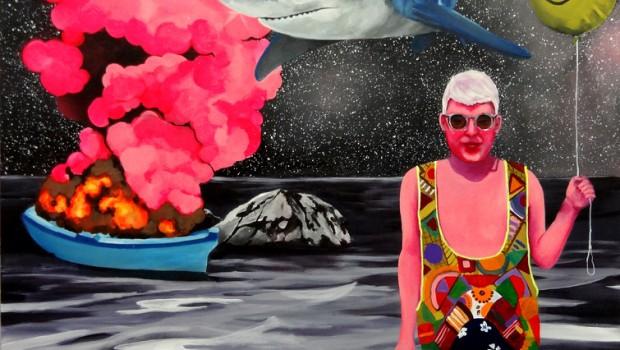 Published on April 24th, 2013 | by neversa3
0
Super Future Kid
Super Future Kid (formerly known as Cake) is more visible than the elusive Banksy, but still prefers to work under an assumed name. Born in Germany and now living in London, she creates a whimsical, almost surreal world, which evokes childhood fantasies while referencing modern culture.
Her work evokes the spirit of both Dali and Warhole. Dali in the sense that she typical uses photo-realistic images in a completely surreal way, for example in her work White Shadows, a totally realistic shark floats in the air above a winter scene, which in itself contains a realistic modern figure, painted with their back to the view along with two human characters who look like they have stepped straight out of a fairy tale and a pop-art influenced reindeer.
Warhole's influence is shown most strongly in her easy and imaginative referencing of contemporary pop culture along with a reworking of more traditional images. For example in Stay Puft the key figure in the scene is the infamous Marshmallow Man from the original Ghostbusters film. The supporting figures are three cats painted to resemble the three flying ducks formerly viewed as interior design standards and now as retro kitsch. Behind them is a stylized owl, referencing spiritualism.
Although Super Future Kid tends to steer clear of overt political statements, she is perfectly willing to rise to the challenge of dealing with controversial issues in her paintings. In Wonder Vacation a women in a white dress and veil, clearly reminiscent of the Virgin Mary holds a lamb (to the viewer's left) and a malnourished dark-skinned infant with dull eyes (to the viewer's right). A shopping bag dangles from her left hand. While the top part of the background is mainly black, the bottom part is filled with splashes of color. Some of the blobs could be human heads, but this is left to the viewer to decide.
Much of Super Future Kid's work demands the viewer put their own input into the painting. For example The Future is Bright features a white dog (similar to a Staffordshire Bull Terrier), floating in the air because it is attached to black balloons. To the right of the dog there is a male figure wearing a Mexican sombrero hat and holding a garden fork (not a pitch fork). His face is white with black markings and he has black hair. It is unclear whether these are natural or whether he is wearing make-up. To the right of him, there is the seated figure of an attractive woman wearing a medieval-style long, pointed hat and holding an orange bucket, painted with a face like a Hallow'een pumpkin. In the background there is a multi-coloured planet surrounded by rings. Different viewers could interpret this work as a piece of whimsy, a comment on youth culture or a referencing of different forms of spiritual values. There might be even more potential interpretations.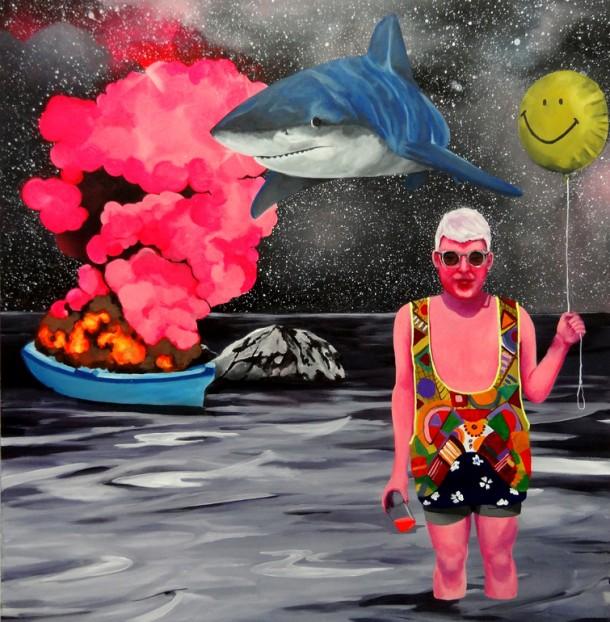 © Super Future Kid
Super Future Kid's attractive combination of creativity, wit and intelligence have made her works increasingly popular and respected. He has been exhibited in the same collections as Damien Hirst and Tracy Emin and his works are steadily increasing in value. At current time, his paintings are still within the reach of amateur collectors, who can buy her original paintings online at Saatchinoline.