Super Freddy in the house!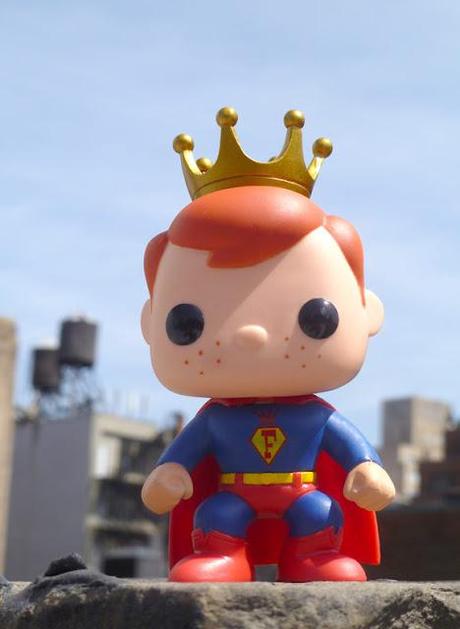 SDCC Exclusive toys - Super Funko Freddy
"Faster than a speeding bullet, more powerful than a locomotive, able to leap tall buildings in a single bound."
"Look, up in the sky!" 
"It's a bird."
"It's a plane".
It's Super Freddy.
"Yes, it's Super Freddy #6. Strange visitor from another planet who came to earth with powers and abilities far beyond those of mortal men. Super Freddy, who can change the course of mighty rivers, bend steel with his bare hands, and who, disguised as Brian Kent, mild-mannered reporter for the Daily Planet, fights a never-ending battle for truth, justice, and
corn on the cob
."
April is going to be a great month for Funko with the release of four new series of figures.
Yo! Gabba Gabba - Rappin' action figures brought to life. 
Muppets - 8 characters from the Jim Henson TV series
NBA stars: Just today, Funko released the artwork for the first ten NBA figures including Jeremy Lin and captains from teams across the league. 
Beatles - the Fab 4 and the Blue Meanie are the first figures to be issued in the series of Beatles figures. Captain Fred and the Yellow Submarine are in the latest catalog.

Funko created Wacky Wobbler style bobbleheads, Blox, Spastic Plastic, and more great collectible toy figures. See the 
originalfunko
 page for the new Beatles Yellow Submarine series. 
Beatles - Yellow Submarine Poster
Beatles Yellow Submarine Pop toys
Disney Pop! Action Figure Toys 42 incredible collectible Disney Pixar characters from Funko

Funko Pop Movies: Toy figures from classic horror films

Comic-Con exclusive action figure toys