Eating healthy doesn't get better than a Nicoise salad with tuna, eggs, green beans, fingerling potatoes, tomatoes, kale, and a lemony dressing.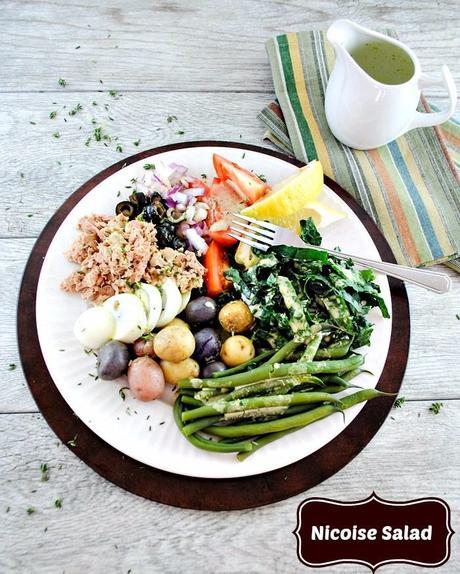 Making a Nicoise salad has been on my must-make list for awhile now, but since Mr. Mike wants nothing to do with seared tuna it sat on the wait list. Keeping Mike's palate in mind, I couldn't wait any longer to give this classic recipe a try, so I opted for water-packed tuna. Not the same in my estimation, but Mike would be happy.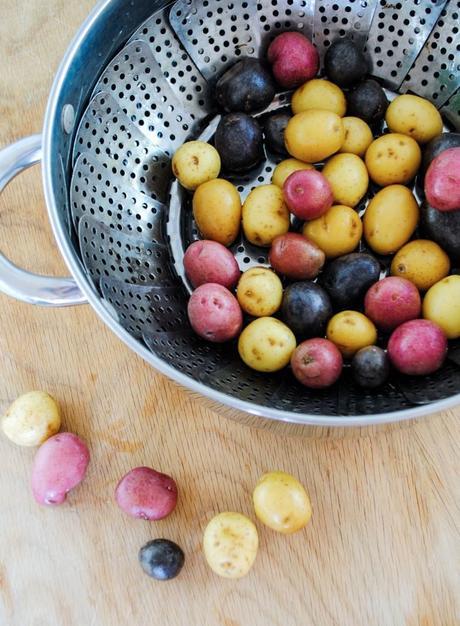 Typically, you'll find a combination of seared tuna (which I enjoy), greens, tomatoes, red onion, green beans, and potatoes with a basic vinaigrette in a Nicoise salad. Being a potato and green bean fan myself, I was intrigued by the ingredients and I couldn't resist the colorful fingerling potatoes at the market. Those purple potatoes are gorgeous, aren't they?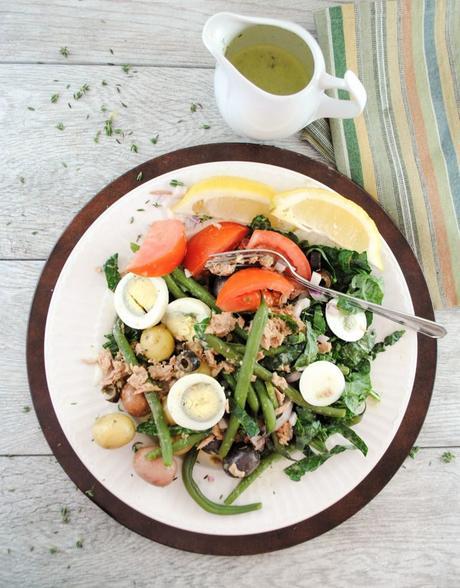 The first question Mike asks is how to eat any salad that isn't tossed for him, so I tossed his salad to make him happy. We were both more than content with our meal and would definitely make this version of a Nicoise salad again (though mine would have seared tuna!).
FYI - This Nicoise salad recipe makes two large salads. Half a salad was plenty for me, but Mike finished his plate, including the kale.
Shake It Up!
Boil the eggs, steam extra potatoes, and green beans the night before you make this Nicoise salad, and served them with grilled chicken (I'm a fan of this chicken with boysenberry barbecue sauce) to make a quick and healthy salad the next evening.
Super Easy Nicoise Salad with Kale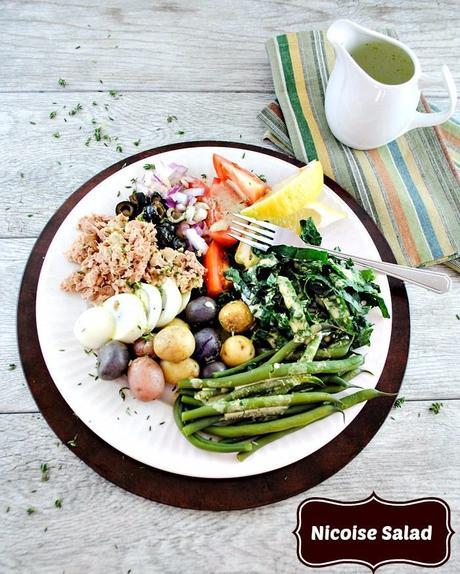 1 large tomato , halved, cored and cut into 8 pieces
½ cup red onion, diced
6 tablespoons olives, sliced
1 ½ cups fingerling potatoes, smaller potatoes, steamed and cooled
2 cups green beans , trimmed, steamed to crisp-tender and cooled
2 cups kale, chopped and packed into a cup
2 large eggs, hard boiled and cooled
5 ounces water-packed tuna, drained
1 ½ tablespoons olive oil
½ large lemon juice, or 2 tablespoons
1 teaspoon Dijon mustard
1 tablespoon champagne vinegar
1 tablespoon water
½ teaspoon honey
Combine 1½ tablespoons olive oil, 2 tablespoons lemon juice, Dijon mustard, champagne vinegar, water, and honey in a blender or jar and combine well.
Arrange tomatoes, red onion, olives, potatoes, green beans, kale, eggs, and tuna on a plate and drizzle with ½ the dressing.
If you like this, then you'll love these!