I have a crazy obsession with wonton wrappers.
Many moons ago, I used them to make mini quiche for an appetizer I needed for a party, and I've been hooked on their versatility every since.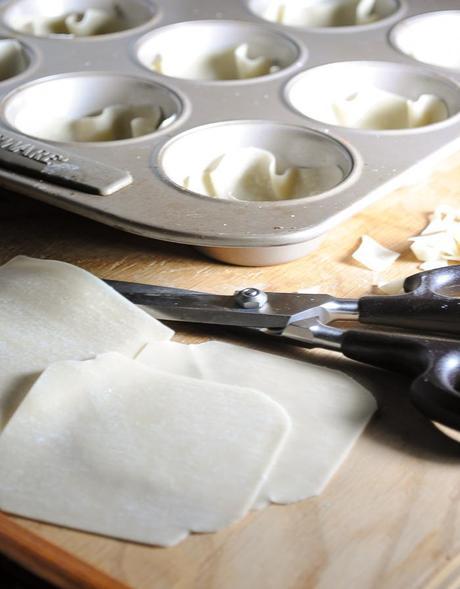 A package of 48 wonton wrappers costs me less than $3.00, with Nasoya being the brand I prefer. They're always fresh, and have a good shelf life in the frig.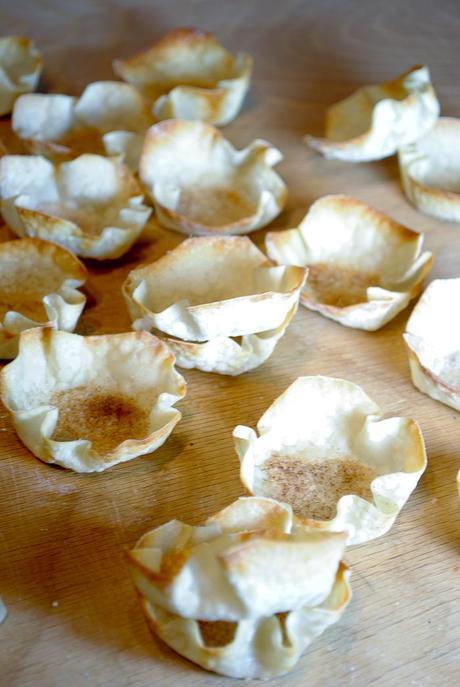 It didn't take me long to bake this pile of wonton wrappers into mini cups, perfect for filling with strawberries and whipped cream.

Who could resist this easy dessert? It's fresh, colorful and low calorie.
But don't stop with strawberries, you can fill these sweetly spiced cinnamon wonton cups will all kinds of fresh fruit, and later this week I'll post my super easy mini pumpkin cheesecakes. You'll see why my wonton cup obsession is out of control.
I'm off to see what else I can create with my wonton wrappers. It's the perfect time of year to try out new recipes on family and friends. It's a good thing they love me! They never know what I might serve them next!
Have a terrific week, and happy holidays everyone!
~Kristi

Wonton Cups Filled with Strawberries and Cream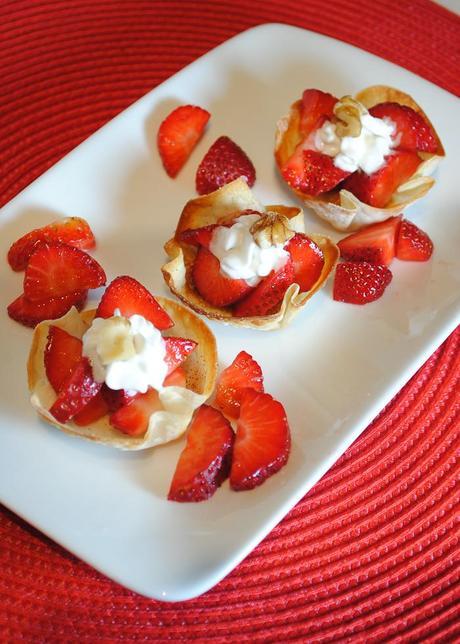 Print
Prep time 10 mins Cook time 15 mins Total time 25 mins   Easy Dessert Recipe - Sugar and Cinnamon Wonton Cups with Strawberries and Cream Author:
Kristi RImkus
Recipe type:
Dessert
Serves:
24
Ingredients
24 ea Wonton Wrappers
2 tablespoons sugar
1 ½ teaspoons cinnamon
Instructions
Preheat the oven to 350 degrees.
Using kitchen shears, round off the corners of each wrapper.
Gently place wrappers into the wells of a cupcake tin.
Combine sugar and cinnamon in a small bowl.
Spray wontons with cooking spray, and sprinkle with sugar and cinnamon.
Bake for 8 - 12 minutes until wrappers are very lightly browned. Watch carefully as depending on how hot your oven cooks, these burn quickly.
Cool and store in a Ziplock bag.
Notes Food energy: 39kcal
Saturated fatty acids: 0.44g
Monounsaturated fatty acids: 0.21g
Polyunsaturated fatty acids: 0.10g
Total fat: 0.75g
Calories from fat: 6
Cholesterol: 2mg
Carbohydrate, by difference: 7.24g
Total dietary fiber: 0.51g
Protein: 0.98g
Total lipid (fat): 0.83g
Water: 16.74g
Ash: 0.24g
Total sugars: 1.96g
Calcium: 10mg
Iron: 0.34mg
Magnesium: 3mg
Phosphorus: 12mg
Potassium: 32mg
Sodium: 49mg
Wordpress Recipe Plugin by

EasyRecipe
3.2.2807
Sign up for my weekly newsletter and get Ten Tips to Skinny Up Your Meals ebook free!

"If you decide to make a purchase through my link, Amazon will pay me a commission for it. This doesn't cost you anything additional. These commissions help to keep the rest of my content free, so thank you!"