I don't know about you, but I get fed up competing with others to get a table in a restaurant come Friday and/or Saturday night. If I can, I will opt for a more tranquil experience, where I can go and eat a meal peacefully, enjoying the ambience and not knowing or (caring for that matter) if there is a second service during the evening. This often means going out for dinner on a Sunday evening. While several restaurants do a rip roaring trade for Sunday Lunch, come Sunday evening, they either close orcustom is relatively quiet as the Monday to Friday masses prepare for the onslaught of the following week.
As a welcome change from dining out on Valentine's Day, which landed on a Monday this year, we decided to bring it forward a day to the Sunday evening and in doing so, discovered a little gem called "The Spread Eagle" in Greenwich.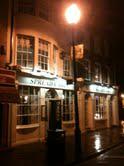 The Spread Eagle, Greenwich
The restaurant is a former coaching inn and dates back to the 1600's. On entering the restaurant, you step into a warm and inviting bar with an imposing wrought iron staircase and a crackling fire which you can enjoy while sipping something special before you go through to the main restaurant.
The restaurant is adorned with beautiful paintings and bronze busts you would believe it could double up as an art gallery. The tables are dressed with crisp white linen and candles and the chairs are upholstered with contemporary colours which complement the mood of the restaurant. The restaurant is dimly lit, perfect for creating that all important intimate ambience.
 We opt for a table by the window so we can watch the world go by.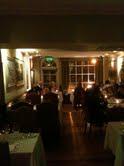 Inside The Spread Eagle 
On a Sunday evening The Spread Eagle does a set menu:
Two Courses for £16.50 or Three Courses for £21.50. The style is French fine dining.For Starter, Main Course and Dessert there is a choice of four dishes for each course.I decide to go for the Jerusalem Artichoke Veloute with Wild Mushrooms followed by the
Pan fried Sea-Bream Fillet, with Potato Puree and Saffron Sauce (Yum!). All washed down with a couple of glasses of cool, crisp Viognier wine (Oh yes please!).
The bread is served warm and crunchy on the outside with a choice of white and brown rolls nestled in your very own bread basket.
The service is very attentive; a good pace, the waiting staff are polite and not constantly breathing down your neck (Never a good way to win customers over I feel!). They merit the 12.5% service charge added to the bill.
My Veloute is smooth, rich and is served with smoked Girasole Mushrooms. 
Heavenly! I love the way that The Spread Eagle is using seasonal produce on its menu; otherwise it may have been some time before I was introduced to the Jerusalem Artichoke.
The main course of Sea Bream follows and it is just how it should be; crispy on the outside and fleshy and moist on the inside. It is perfectly positioned on beautifully seasoned Potato Puree surrounded by a sumptuous Saffron Sauce. I was tempted to lick the bowl but refrained out of respect for my partner!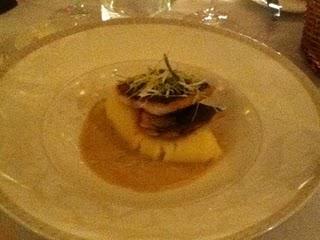 Sea Bream Fillet, Potato Puree and Saffron Sauce
As we are full, we decide not to take a dessert but we are certain that we will make a return visit to "The Spread Eagle" in Greenwich. They also do a tasting menu for that special occasion which I believe, is available most nights (except Sunday).
If you are looking for a high quality meal, enjoy French cuisine, don't mind dining out on a Sunday evening and don't want to blow the budget, take advantage of the set menu at The Spread Eagle in Greenwich. You can't really go wrong.
You can book online at
http://www.spreadeaglerestaurant.co.uk/
Tell them MeLikeyUK sent you!
Enjoy x