On November15th, Sotheby's Geneva sold the renowned Sun-Drop diamond for a a record $12.4 million.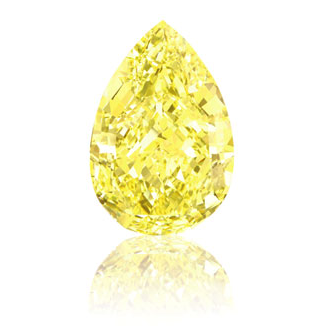 The 110 carat fancy vivid yellow diamond shattered last month's previously held record auction price of $6.5 million, set by the Vivid yellow Christie's sold.
According to JCK, "The VVS1-clarity Sun-Drop, cut and polished by Cora International, was exhibited earlier this year at London's National History Museum and ranks as the largest known pear-shape fancy vivid yellow diamond in the world. (Fancy vivid yellow is the highest color grade for a yellow issued by the GIA.) The rough was discovered in South Africa in 2010."
David Bennet, chairman of Sotheby's jewelry department in Europe and the Middle East and co‐chairman of Sotheby's Switzerland, stated:
"We are thrilled with the price achieved by this spectacular daffodil yellow diamond; it is one of the most impressive I have had the pleasure of selling. The Sun-Drop Diamond has immense presence and is truly stunning.… Today's strong sell‐through rates are a reflection of the continued strength and resilience of the international jewelry market."
To read the entire article, visit JCK's website by clicking here. You can also view the other outcomes of Sotheby's Magnificent Jewels auction here.
Liz for Raymond Lee Jewelers, your source for jewelry news & updates.