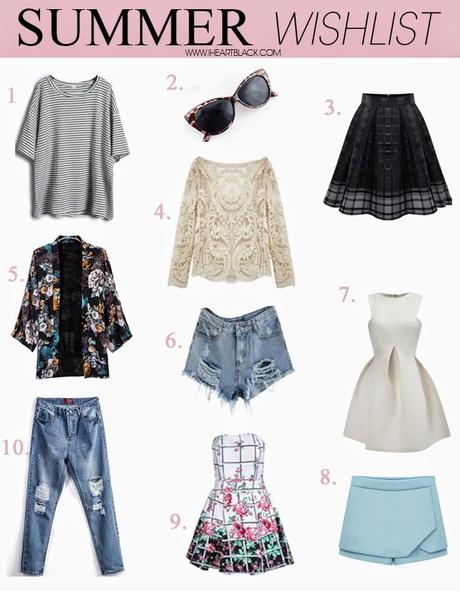 1

/

2

/

3

/

4

/

5

/

6

/

7

/

8

/

9

/

10
*Click on the pink links bellow or above to follow the products.
I hope you all are enjoying your week so far. Today we're talking about lusting over summer  warmness with a basic, effortless SS14 wishlist. Can you even believe that all of the items on this list are bellow 40$, making these items both chic and affordable? Just follow the links to see what I'm talking about. Do tell my in the comment box what's your favorite.
1.

Grey Short Sleeve Striped Loose T-Shirt

- comes without saying this is an all time must have in anyone's wardrobe since there are countless ways to mix and match this for summer. Plus, stripes are still a big hit this SS14 either horizontal, vertical, on pants, dresses, t-shirts. You name it, stripes are everywhere. 
2. Leopard Cat Eye Sunglasses - I've been looking for some cat eye sunnies for ages. They're pretty good in giving a plain outfit that je ne sais quoi and make it stand out. Par exemple, skinny black jeans, a striped tee (maybe the one above), a pair of black stilettos and the cat eye sunglasses - match made in heaven!!
3. Black Zipper Plaid Pleated Chiffon Skirt - midi skirts are going strong this spring and summer and they're just the right item to doll up a girly outfit. I'm going with black (of course), a bit of plaid and some seethroughness.
4. Beige Long Sleeve Hollow Crochet Lace Blouse - with the many festivals coming this summer, plus Berlin being the Mecca of parties and after-parties I'm really lusting over a boho-inspired crochet top. It make a great pair with the distressed denim shorts also! :)
5. Black Lapel Vintage Floral Loose Coat - keeping the festival theme going, a loose silky floral coat will be perfect for those summer nights. Am I right?

6. Blue Mid Waist Ripped Denim Short - loving these because of how efortless they look and even though I have a few pairs, one more comes in handy. Now all we need is summer in Germany!
7. White Round Neck Sleeveless Flare Pleated Dress - I initially loved how structured this dress is, with clar cut lines & flattering on the waist. Then I felt it completly won me over with the color. Although I'm most of the time focused on black items, white and pastels will definitely be my go-to items this summer. 
8. Blue Mid Waist Chiffon Shorts - as with the dress above, this skort will be perfect this summer in this light blue shade and structuctured lines.#
9. White Strapless Plaid Floral Ruffle Dress - I'm usually against strapless dresses, since they don't work for me - not enough support for the girls - but this one is sooo pretty, the pattern is amazing mixing plaid and floral, black and white that I really hope they make a strap version.
10.

Blue Bleached Ripped Pockets Denim Pant

- not much to say about these jeans, except that I adore them: effortelss, distressed, chic - perfect for a night out.