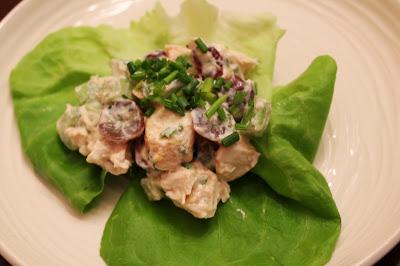 I like chicken salad especially in the summer. Chicken salad can have the tendency to be either heavy or fattening depending on the mix ins. Chicken salad is traditionally mayo based and served on bread. I decided to lighten it up by making most of the mix Greek yogurt and making the filling fresh and vibrant to stand up to the summer sun.
I added dried cranberries,grapes,lemon and tarragon. What an amazing salad! The zing of the yogurt adds a great flavor to the chicken salad.You can add whatever toppings you like if these don't strike your fancy!Crunchy apples would be a great addition. Maybe even some avocado! Ok I am getting carried away.
I served this on a bed of Boston Bibb lettuce to make it light ( hey it is swimsuit season after all.) I ate this chicken salad all week and it is great on bread also. So if you need the carbs, for god's sake eat the carbs
Summer Style Chicken Salad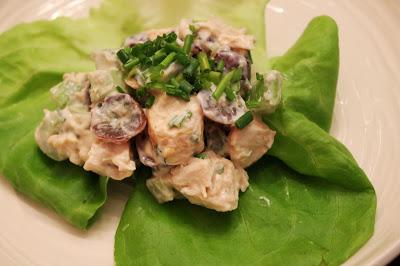 Ingredients
1/2 cup Greek yogurt
1/4 cup low fat mayo
1 tsp chopped Tarragon
1 tsp chopped Chives
1 tsp olive oil
1 tsp Dijon mustard
Zest of 1 lemon
Juice of 1/2 a lemon
S&P to taste
2 ribs of celery chopped
2 tablespoons chopped walnuts
1/4 cup dried cranberries
1/2 cup chopped grapes
1/4 cup walnuts
1 lb of chicken cubed
6 leafs of bib lettuce
Directions:
1. First chop season  and saute chicken until fully cooked. Chop into smaller pieces of necessary and set aside to cool.
2. To start dressing mix Greek yogurt through lemon zest and wisk until smooth. Add chicken to dressing.
3. Add celery,walnuts,grapes and cranberries and mix. Refrigerate if not being eaten immediately.
4. Serve this delicious chicken salad on a bed of bibb lettuce.