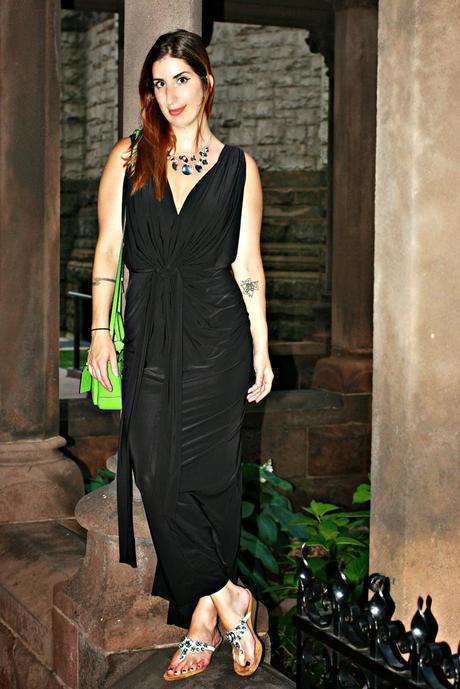 T-bags Knot-Front Jersey Dress, c/o Neiman Marcus Last Call at Legacy Place, Jeweled Sandals, c/o White Mountain. Necklace, Macy's. Bag, Reed Krakoff Micro Boxer at Saks.
Is there anything more quintessentially summer than jeweled sandals? For me at least, it's not enough to just finally kick off those snow boots that seem to occupy my feet for way longer than their allotted few months. I go all out in the summertime with pedicures in new shades (Like Stylenomics, this teal shade by Essie - a deviation from my usual tropical colors) and shoes that wear more like jewelry. The Chrysalis Sandal by White Mountain is just what my closet needed this season, with opulent crystals that would make a Disney Princess swoon, and a super-soft footbed that hearkens that ultimate summer sensation: A barefoot walk through freshly cut grass.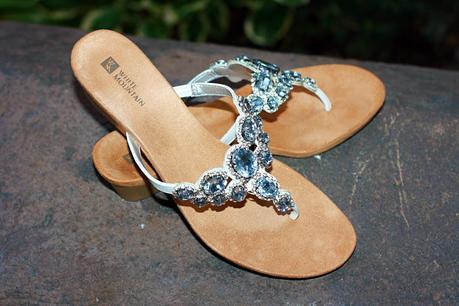 Chrysalis White Jewels Sandals, $55
The New England-based shoe brand (which also owns and operates Rialto and Cliffs by White Mountain) is known for pared down basics that put comfort and quality first, but they also have a playful side - the Chrysalis, as well as a ton of other models centered on beaded and shimmery motifs can attest to that! 
Some bloggers are obsessed with proportion-play, but I love occasion-play! Mixing and matching formal pieces with casual elements is my recipe for style success, so pairing this cocktail-ready, toga-inspired drapey jersey dress from Neiman Marcus Last Call's brand new Legacy Place outpost with sparkly thong sandals is right up my alley. Opting for flats immediately took the look from Wedding Guest to Poolside Drinks, but not any old flats will do - the glam element of the Chrysalis was just enough to stand up to the sleek and chic T-Bags dress.With travel planned for Turkey and France later this summer, I know I'll be engaged in urban exploration from dawn til dusk, and the last thing I need is footwear that is cozy, but about as chic (and touristy) as a fanny pack. With that in mind, I've been on the hunt for shoes I that will earn me approving (jealous?) glances from stylish Parisian ladies. I'd say I found my match! 
Hey, if the shoe fits...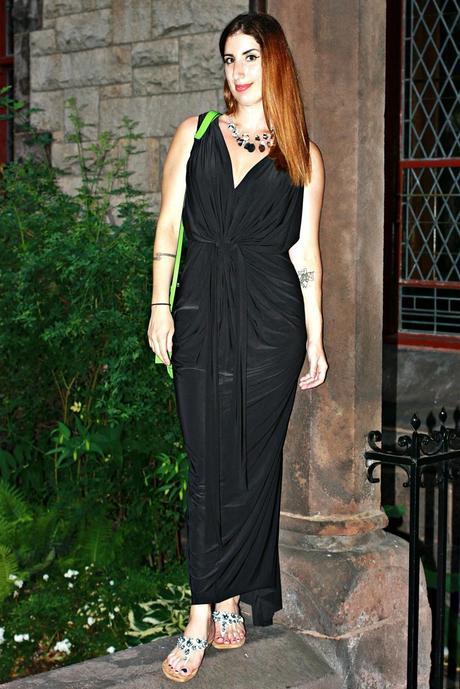 Visit their brand new website - their summer sale does not disappoint. My Top Picks online for summer: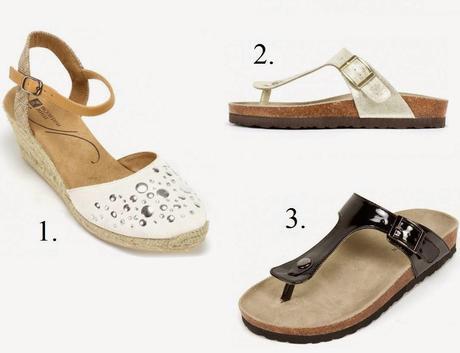 1.) Solar Natural Wedge, $53 / 2.) Chicory Gold Sandal, $35 / 3.) Chicory Black Sandal, $35
I love the gently studded Solar espadrilles and The Chicory, White Mountain's take on the upscale, Editor-approved Birkenstock trend.
Cheers,Renata