Summary: "Zach Carson is a loyal friend. But is loyalty enough to keep best friends together when one of them sets fire to the rural barn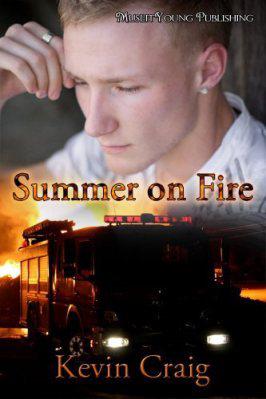 they use as the local hangout?
Zach, Jeff Barsell and Arnie Wilson struggle to pick up the pieces when news spreads that a body was discovered in the burnt out shell of the neighbouring home. When the word murder is used by the local police, the stakes grow even higher. When the police start searching for their most likely suspect-none other than Jeff's older brother, and nemesis, Marty Barsell-the boys decide to join forces and come up with a way to prove his innocence.
But just how innocent is Marty Barsell? When Marty admits to being at the scene of the crime, the three friends enlist the help of Zach's annoying sister, Sherry, as well as the sympathetic town eccentric, Ms. Halverton. But can they keep it together long enough to save Marty, and themselves, from imminent catastrophe? Summer on Fire is the story of friendships, and the lines we are asked to cross in order to keep them."
I received this book from Kevin Craig. I really wanted to read a really good book, and that's exactly what I got when I read this book! There was never a dull moment, and everything about the book roped you in because you can't stand not knowing what will happen.
First of all, I want to say that I thought of a few different books when I read this. I read The Outsiders by S. E. Hinton when I was in 7th grade so I don't remember a lot, but that was the first book I related it to. I'm sure it was because both consisted of fires and trouble making teens. I also related this book to the book Shine by Lauren Myracle. Kind of an odd comparison, right? I guess it was because of the mystery and the characters not stopping until they had answers. Also, one of the characters is abused in both books and in both books, one of the characters gets what they deserve and people see their true colors. Another book I thought of when reading this was Cheated by Patrick Jones. I guess the whole story seems like something Patrick Jones would write. Both of these books dealt with fire, trouble making kids, and the police are involved with both stories a lot. I feel like I'm always making connections between books!
This book is told from Zach Carson's perspective but you also meet a lot of other characters. There's his two best friends and their families, his sister and parents, and a lady named Ms. Halverton and her brother. I loved Ms. Halverton! She was very blunt, and right to the point about everything. She pretty much knows everything about everyone in town and has a way of making everyone do exactly what she wants. She's always getting on the boys and making them straighten up and through out the whole story she's a really big help. Something that surprised me about the three boys was that they all acted really tough, but they were such babies! They cried so much! But, under the circumstances, I'm sure ANYONE would cry. When you read this book, you will form a burning hatred for Jeff's dad. He is so mean and nasty and such an awful father. Human being for that matter. You will also hate his brother Marty, but you'll love seeing him grow throughout the book.
I recommend this book to everyone, adults and teens. Even if it doesn't sound like something you'd like, I really think you will! There's so much mystery and many twists you won't be able to put it down! I loved this book.
Thank you Kevin Craig for this book


 5/5 stars