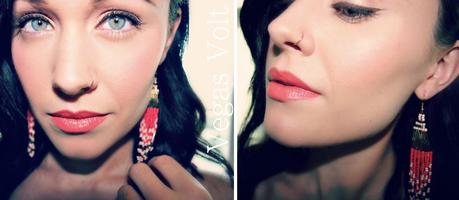 Okay okay. I know yesterday I said I was going to feature a blue under toned red today but as soon as I put these earrings on, I knew I needed a pink coral lip in my life. For me, coral is the ultimate summer lip color. Just feminine enough to feel "done up" and soft enough to not make you feel uncomfortable or out of your element. 
I love MAC's Amplified Lipstick in Vegas Volt. If you've never worn one of their amplified lipsticks you are truly missing out. Its like the pigment and hold from a matte lipstick married the moisturizing feel and shine of the cremesheen lipsticks! They 1- glide on softly, 2- leave lots of pigment so you don't need to use very much, 3- they hold!, and 4- the colors in this family are unreal pretty. 
The rest of my look....
FACE
Bobbi Brown Skin Foundation
Bobbi Brown Bronzing Powder
Laura Mercier Blush in Rose Petal
Highlight= MAC Eyeshadow Angel Flame*
EYES
MAC Eyeshadow Angel Flame*
MAC Fluidline in Dipdown
Bobbi Brown Everything Mascara
Brows= MAC Dipdown with 266 brush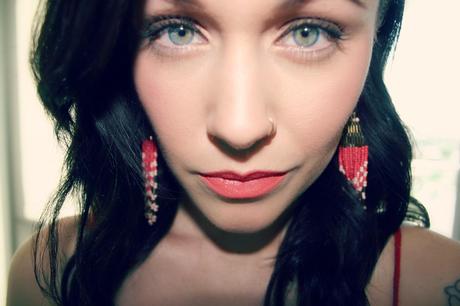 Now, I'm off to fill out some paper work to be a MAC Freelance Makeup Artist (I use to work for them) then I am hitting the pool! Yes, in these earrings.